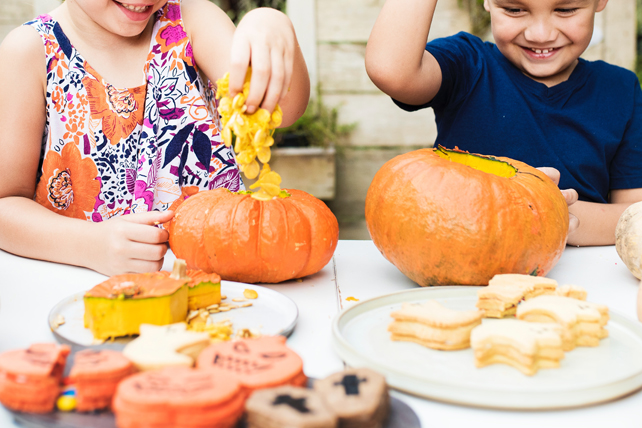 Having a fall festival at your church on or around Halloween is a great outreach opportunity. Families looking for a safe place for their children will gravitate to your event. While there, they can discover more about what your church and children's ministry program offer.
Children's Ministry Magazine shares these 100 great ideas for a fall festival that will thrill families:
Fall Festival Booth Ideas
Treasure Box: Kids dig for prizes in a sand-filled aquarium.
Gospel Sing: Have a talent show on a flatbed truck.
Door Prizes: As they enter, participants get tickets for a drawing held later.
Jonah and the Big Fish: Decorate a refrigerator box to look like a big fish. Hang moss on the top inside of the box. Use red light inside and have "Jonah" tell his story.
Candy Grab: Kids get one chance to grab all the candy they can out of a bucket.
Swirl Painting: Kids make art designs from a swirl painting kit (available at toy stores).
Nurse's Station: Children get their pulse rate, weight and height done by a uniformed nurse.
Computer Printout: Kids get printouts with their name and its meaning (taken from baby name books).
Karaoke Singing: Have an adult play the piano or borrow someone's karaoke machine. Kids sing their choice of song on a little stage, complete with a microphone.
Nail Painting: Older girls paint kids' nails.
Treasure Dig: Kids dig around in a kiddie pool filled with plastic foam packing peanuts and small toys.
Family Photo Booth: Families pose for instant-print photos at your fall festival. Then place photos in kid-decorated frames.
Live Reformers: Costumed Martin Luther, John Calvin or John Knox give brief presentations about what happened in their lifetimes.
Bean the Philistine: Kids sling small beanbags at a life-size plywood cutout of Goliath.
Pin the Thesis: Have "Martin Luther" talk with children before blindfolding and spinning each one. Then each child tapes a pre-printed "thesis" to a door.
Ring It: Children toss embroidery hoops over empty two-liter bottles arranged similar to bowling pins on the floor.
Ring It Again: Kids toss hoops at prizes set up on tables or boxes. Prizes include bubbles, soft drinks and small toys.
Muffin Pan Toss: Kids toss 10 pennies into a muffin tin with numbered holes; pieces of felt in the bottom of the tin keep pennies from bouncing out.
The Mummy Wrap: One player is the "wrapper," the other is the "wrappee." Racing against time, the wrapper wraps the wrappee with an entire roll of toilet paper.
The Carpenter's Crew: Each player is given a hammer and a board with three already started nails. On go, the carpenter is given 30 seconds to hammer as many nails as possible.
This Little Light of Mine: Each player receives two filled squirt guns. Standing three feet away from three lit candles, kids try to extinguish the candles before running out of water.
Knock It Off: Kids use water guns to knock ping-pong balls off tops of soft drink bottles.
Blow and Go Race: Four children race on the floor using party blowers to blow ping-pong balls to a finish line.
Ping-pong Blow: Teams of three compete to blow ping-pong balls to the other end of a table using drinking straws.
Pumpkin Sweep: Children sweep a small pumpkin along a taped course on the floor. Kids can race against each other or against time.
Creation Station: Kids create art with this "putty": Stir four tablespoons of glue and a few drops of food coloring in a bowl. Add a few teaspoons of dissolved borax water solution. Stir. Then squeeze it like dough. Provide water for washing hands and plastic bags for the putty.
Exploration Point: Fill a sandbox with objects to tell a Bible story. Give kids toy shovels to dig out the objects. Then tell them the story.
Can Alley: Cut out one side of a big box. Hang soft drink cans from strings inside the box. Kids shoot at the cans with Nerf guns.
Music Videos: Set up a video-recording device with a monitor. Families pick their wardrobes from old clothes and wigs. Then they lip-sync to Christian music while watching themselves on TV.
Gummy Fun: Set out two paper plates for each child. Fill one plate with gummy worms. Pour Hershey's syrup over the candy. With hands behind their backs, children pick up the candy with their mouths and set it on their empty plates.
Super Hero Story Tent: Every half-hour, a creative storyteller tells a different Bible story at your fall festival. A poster clock outside the tent shows the next story time.
Noah's Super Boat Race: Fill capped, plastic rain gutters with colored water and lay them on parallel tables. Give children small plastic boats to blow the length of the gutters.
Moses' Super Journey Obstacle Course: Families experience the Israelites' journey by running through sprinklers, eating graham cracker manna, carrying cardboard tablets over sturdy step ladders, pushing through oversize grape clusters of purple balloons, fighting giant cardboard cutouts with bed pillows, and running through streamers to the Promised Land where they receive compasses.
Jonah's Super Soaker: Children run through a revolving sprinkler head, then crawl under a table draped with blue sheets. Lay plastic sheeting under the table and cover it with cooked spaghetti. Stake a whale painted with gaping jaws against the table. Tape clear plastic to the whale to keep it dry. (KE, NH, GV)
Moses' Super Cake Walk: Instead of numbers, use the 10 plagues to mark your cake walk. Families walk the circle as music plays. When the music stops, the person closest to the drawn plague wins the cake.
Basketball Shoot: Kids toss a basketball through a PlaySkool hoop.
Water Sponge Toss: Kids toss a sponge at a person peeking through a plywood cutout.
Water Sponge Toss Too: Kids toss sponges into lined-up buckets.
Dunking Booth: Put your church staff and teachers in a rented dunking booth.
Face Painting: Decorate kids' faces.