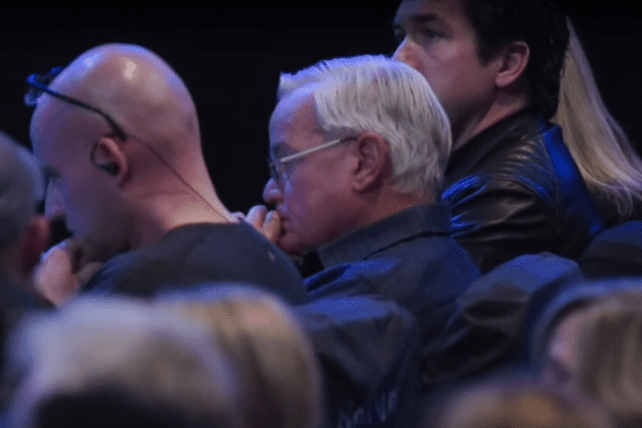 Betty Schmidt, who served as an elder at Willow Creek Church for over 30 years, says she will not participate in efforts at reconciliation between herself and the current Willow Creek elder board. Schmidt first expressed her concern over the way the elder board was handling the allegations against Bill Hybels in April. Now she is speaking up again, raising alarm over the board's choice in mediators to handle the conversation between Willow Creek and the women accusing Hybels of sexual misconduct.
"Before reconciliation can be attempted, Willow Creek elders and leaders must focus and address their own actions and failings, which have been accruing since the unfortunate family meetings of late March and for the four years prior," Schmidt writes on her site VeritasBeTold. The family meetings Schmidt refers to are the ones the elder board held with congregants following the Chicago Tribune's breaking a story about Hybels and the women accusing him of sexual misconduct. Until that story was published in March, the broader congregation at Willow Creek (and the broader public) was unaware of any such allegations. Only the elder board and other key leaders of the Willow Creek Association knew of the allegations and the investigation that was underway.
Following these family meetings in late March and early April, Schmidt released a statement saying the current elder board misquoted her testimony to them about a situation involving Hybels and Vonda Dyer, a former staff member at Willow Creek.
In her most recent statement, published May 25th, Schmidt is imploring the elder board to "acknowledge and apologize for the untrue and damaging statements" they made about the women disclosing allegations against Hybels. The elder board did seem to listen to the outcry that arose after their initial family meetings addressing the allegations. On May 9th, the elders, led by Pam Orr at the time, apologized for some of the "sweeping statements" that they made about those accusing Hybels. Orr admitted, "We do not believe the stories were all lies or that all the people were colluding against him."
Apparently, Schmidt does not consider this apology adequate. Additionally, she voices her concern over the elder board's choice of hiring Crossroads Resolution Group to facilitate discussions. Schmidt writes:
David Schlachter, of Crossroads Resolution Group, and formerly an officer in Peacemakers Ministries, was hired by the elder board in 2006, during my 30 years of continuously serving as an elder, to help mediate a reconciliation between Senior Pastor Bill Hybels and the volunteer elder board. He was joined by two other mediators, one a psychotherapist and the other a former Willow Creek elder.
After a day and a half of intense, guided discussion, the final session was attended by only five of the participants: the three mediators, Bill Hybels, and one elder, who, as it turned out, became the scapegoat for the fracture that had developed between Bill and the elders. I vehemently protested this meeting and demanded that all of us, but minimally I, be allowed in, but was denied entry…by David Schlachter. The result was tragic, and Bill was never called out for sin of abusive powering up on certain staff members and others who had raised complaints about him to the elders.
Mr. Schlachter seemed bent on distributing the fault equally among all of us, continuously impelling us to look within and identify the "idols" we were harboring. His was an extremely narrow, simplistic, reductive approach, one that held no understanding of personality disorders or power imbalances. I cannot recommend that anyone sit down to a table of reconciliation set in this matter with Mr. Schlachter in charge.
David Schlachter has previously given Bill Hybels a pass on other sinful behaviors, so there is little reason to believe that he will display impartiality in this current matter or come to any different conclusion than he did in the previous situation.
However, in a family meeting held May 23rd, the elder board's new Chairperson, Lane Moyer, described Crossroads Resolution Group as "an independent, neutral third party" brought into the situation by the church "to listen to the women involved and discuss with each of them their requests and desired process outcomes."
While Schmidt takes issue with the particular mediator chosen, Dyer takes issue that a mediator of this kind was even chosen in the first place. On her website, Dyer writes:
It appears that you are treating this like a relational dispute that needs to be resolved, rather than a 1 Timothy 5 situation of a leader being accused by two or more parties of patterns of sin. This is not an issue of relational reconciliation, it is an issue of dealing with the sin of a leader. This latest step by the elder board only further communicates to me that you either don't understand the nature of the problem, or you collectively have no intention of discovering the truth and holding Bill accountable for whatever he has done.
Echoing Schmidt's statements, Dyer believes "transparency, accountability and repentance must occur before the process of reconciliation or resolution can begin."
This is very similar to how Nancy Beach responded to the elder board's apology earlier in May. Beach writes of her attempts to communicate with the elder board during its initial investigation into the allegations (before the Chicago Tribune article was published) in a blog post. She describes being sidelined and, since going public with her accusations, "maligned" by the elder board. She also is hesitant to enter into reconciliation attempts. Beach writes:
The path to healing requires a sequence:
Truth leads to Repentance which can then maybe lead to Reconciliation.
Why do I say "maybe?" about Reconciliation? Because it does not always happen and in some cases may be harmful and not advisable. In situations of abuse, reunion is not usually the result. However, there can still be forgiveness so that we can be free of the bitterness poison.
According to Beach, two of these steps have not been completed by the elder board, and they are stalling the process of reconciliation.
Bill Hybels resigned from his position in April, six months before he was planning on retiring in October. The elder board is currently conducting a 45-day initiative to reach out to hear from Hybels' accusers and also examine the church's policies and procedures "to ensure we continue improving our culture."
---
More on this story:
Update: John Ortberg Responds to Bill Hybels Allegations
Bill Hybels Announces Resignation, Cites 'harmful accusations'
Bill Hybels' Accusers Are Not Ready to Move On
New Allegations Surface in Bill Hybels Investigation
Willow Creek: No Collusion in Bill Hybels Allegations