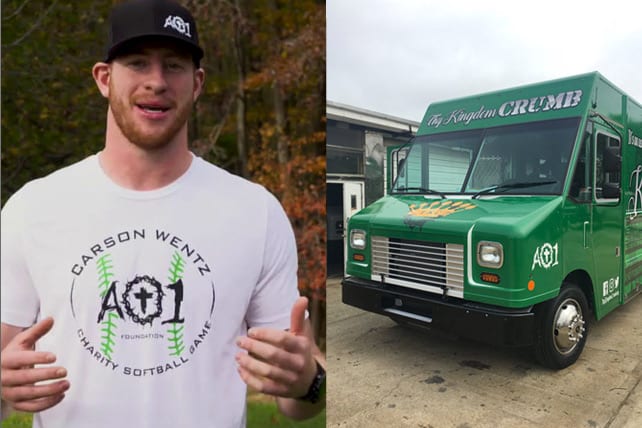 Carson Wentz doesn't recognize an off-season when it comes to helping people in need.
The Philadelphia Eagles quarterback is rolling out a new, free food truck that will serve the less privileged in the Philadelphia area.
The food truck has the catchy name "Thy Kingdom Crumb" and is a collaboration between AO1, Wentz's charity and Connect Church.
"God willing, I want to be here a long time. And I wanted to find a way to make a difference in this area, in this community. And what better way than to provide free food to people all over the place, all walks of life—and just to foster an environment where there's community, where's there's real relationships," Wentz said in a promo video posted on Twitter on Monday.
So excited to announce the new @tkctruck initiative through the @AO1Foundation and the Connect Church! It's gonna be so impactful and we can't wait to get it rollin! #AO1leaveyourmark https://t.co/oqFKMr28j5

— Carson Wentz (@cj_wentz) June 3, 2018
But the food truck is just one his summer projects.
On June 4, while the Philadelphia Phillies were on the road, more than 25,000 fans showed up at Citizens Bank Park to watch Wentz's inaugural charity softball game that raised over $850,000 for his A01 Foundation, whose mission statement is to "uplift individuals and communities around the world by demonstrating God's love for his people."
Wentz got some push-back when he suggested using the Phillies ballpark from people who didn't think he could attract a crowd and pictures of an empty stadium might actually harm his charitable efforts.
Those were probably the same people who didn't think the Eagles could win a Super Bowl.
"Trust me, they'll come. I just know the passion here," said Wentz. "I know the fans are all about the Eagles and everything we stand for and what we've been up to. The support has been unbelievable."
About half of the Eagles team, as well as owner Jeffrey Lurie, showed up for the event, a group that included Fletcher Cox, Zach Ertz, Nelson Agholor, Jason Kelce and Nick Foles. Wentz and Jordan Hicks were the captains, and as the picks came and went, Foles still had yet to hear his name called. At the end, it was just he and rookie tight end Dallas Goedert in the dugout. "We're down to the rookie and the Super Bowl MVP. So I'll take the rookie," Wentz joked. It was all apparently by design, as Foles got a huge ovation and chants of "MVP!" as he took the field last.
During the event Wentz presented a check for $520,000 to Mission of Hope to help fund the building of a sports complex in Haiti. Wentz opened up a public fundraiser that brought in $260,000, which he matched dollar-for-dollar.
AO1 is short for "an audience of One" and Wentz said his efforts to help those less fortunate fulfill the desire that his foundation's name stands for.
"The thing about the foundation and everything that comes with it is, that'll hopefully be my whole life, whereas football, there's obviously a time limit on that," he said. "Who knows how long that will be, but I definitely want my legacy to be more about how we served, how we gave back, how we came into this world and hopefully leave it in a better place."