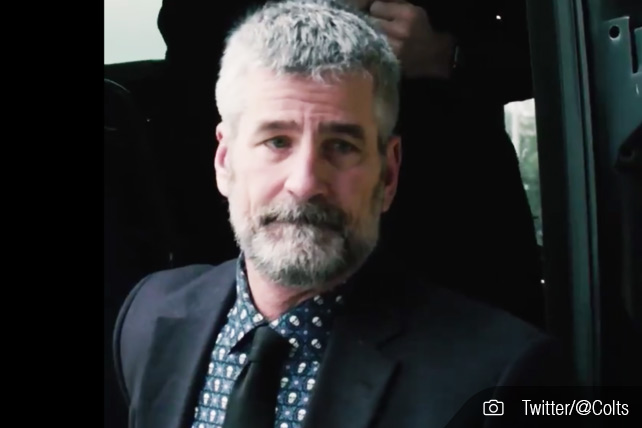 Although his official ministry career was brief, Frank Reich continues to live out his faith and make an impact through football, his other "sphere of influence." Reich, the first-year head coach of the Indianapolis Colts, played in the NFL for 14 years and then became a seminary president and pastor. But soon he felt called back to football, where he continues to live out his faith.
There's a "false dichotomy between sacred and secular work," Reich realized. He points to "the priesthood of all believers—that every Christian is called to live out their faith in their sphere of influence."
Frank Reich's History of Comebacks—and of Being a Second Choice
Despite playing mostly backup roles, Reich holds a special place in football history. At the University of Maryland in the early 1980s, he was quarterback Boomer Esiason's backup for three years and then got hurt his senior year. After that injury, Reich thought, "God, why are you doing this to me?"—and then knew that "football had become my god…[and] I had to reprioritize my life."
Later that season, with Maryland down 31-0 at halftime, Reich came off the bench to lead the team to a 42-40 victory. For 22 years, that stood as the greatest comeback in college football.
In the pros, Reich was instrumental in the largest comeback in NFL history. During his first playoff game—with the Buffalo Bills in 1993—he took the field after starter Jim Kelly was injured. Reich engineered a 41-38 overtime win against the Houston Oilers, despite being down 35-3 early in the third quarter. Kelly resumed his starting role for the Super Bowl, a game the Bills lost four years in a row. After one of those devastating losses, Reich says he found comfort in Michael English's song "In Christ Alone."
During a 14-year pro career, Reich started only 22 games. But being a backup didn't mean he was "any less fiery or competitive," he says. "I understood what my role was." Bill Polan, former general manager of the Bills, says Reich "subjugated his own desires to be a starting quarterback because he understood the value of his position."
The "second choice" theme continued for Reich as he entered coaching. While on staff with the San Diego Chargers, Reich was a candidate for the head coach opening at Maryland, but the job went to someone else. While he was offensive coordinator for the Philadelphia Eagles, Reich won a Super Bowl ring in 2018 by leading backup quarterback Nick Foles to victory. Days later, he was named head coach of the Indianapolis Colts—only after the team's first-choice candidate backed out.
Reich, who returned to the Colts seven years after being fired as their wide receivers coach, led the team to a 10-6 record this year. On January 5, the Colts play a wild card playoff game against Houston.
Following Jesus on an Improbable Journey
Reich, 57, was raised Catholic and got involved with Christian ministries during college. As his faith developed, he wanted "more formalized training" to share his faith story and to teach the Bible.
During offseasons while playing for the Carolina Panthers, Reich began taking classes at Reformed Theological Seminary (RTS). He continued studying as he moved to several different NFL teams and was asked to be the school's next president before even graduating. Ric Cannada, who was leaving the post in Charlotte to become chancellor of the entire seminary system, realized Reich was a mature, knowledgeable student and a "natural leader."
"I'd been with him enough that I knew his character was right, and he could set an example," Cannada says. "There was vision there, and that's what you need in a leader."
During his three-year tenure as RTS president, Reich was lauded for his collaboration and humility. "His focus was always on Christ and how to bring glory to him," says Michael Kruger, current RTS president. "He would not ask someone to walk a path he was unwilling to walk himself. He sought to embody the values of the seminary, not just talk about those values."