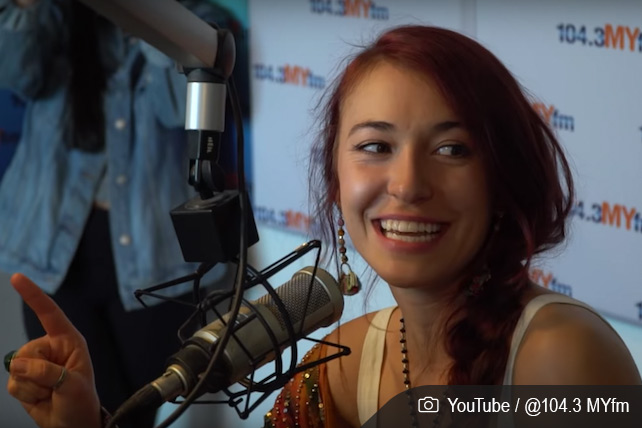 After drawing flak for her controversial comments on homosexuality, Lauren Daigle has been on a "ride." That's what the Louisiana-native told a radio DJ in a recent interview. When asked whether she still identifies with the "Christian artists" tribe, Daigle's response was pretty non-committal.
"I feel like those labels get put on you by other people…I think part of me is just 'artist' because it encompasses everything," the singer says.
Is Lauren Daigle a Christian?
Daigle sat down with radio DJ Dave Styles of 104.3 MYfm in Burbank, California to talk about her music and her potential cross over into the secular world. With appearances on The Ellen Show, Jimmy Fallon and Dancing with the Stars, Daigle seems headed in this direction. The very fact that a secular music station is interviewing her could be seen as confirmation. She admits the transition from a majority Christian audience to a more secular one has already been a "ride" and hints at the negative comments she's been receiving from fans and others who are concerned the singer is leaving her Christian roots.
Daigle seems unphased by the pushback, though. "Risk is the best. Risk is the most beautiful thing," she says with a smile.
Styles asked about Daigle's inspiration for her newest album, Look Up Child. Daigle says her goal for the album was to "make music that we believe in that's pure, true sound and that's something that we love, and it will transcend wherever it's supposed to go. But let's make sure that it's pure and authentic to who we are."
As for inspiration, Daigle says she and her team studied the music and styles of "the greats that have come before: Aretha Franklin, Roberta Flack, Andre Crouch…Lauren Hill."
Not Changing, Just Reaching a Broader Audience?
Not missing a beat, Styles picks up on the potential pushback Daigle could receive from admitting her inspiration didn't come from more Christian sources. "You're not changing?" he asks Daigle, even though her songs are becoming more well known and mainstream. She does not believe she is.
Daigle points to the fact that she used the same producers and writers for her second and most recent record that she used for her first. Daigle agrees with Styles when he says "you're not changing, they're [the secular audience is] just opening up to you."
"I hope so," Daigle replies.
Indicating she's pleased her songs are reaching a broader audience, Daigle says "It's beautiful to see how wide these songs are going and the landscape they're covering." She mentions comments she's seen on her songs on YouTube in which viewers have disclosed they were going to commit suicide, but heard one of her songs and decided not to. Daigle says seeing people respond to those commenters in a supportive way is "beautiful" and a "gift." Daigle says she also gets messages from people who use her music to learn English. She attributes this to the power of music.
Some may see the interview and criticize the singer for not mentioning God.
"I just want to see people come together," Daigle says. "I want to see it become something pure," she concludes. As for Styles, Christian message or not, he is eager to play her songs "over and over and over and over again."
What do you think of Daigle's comments?