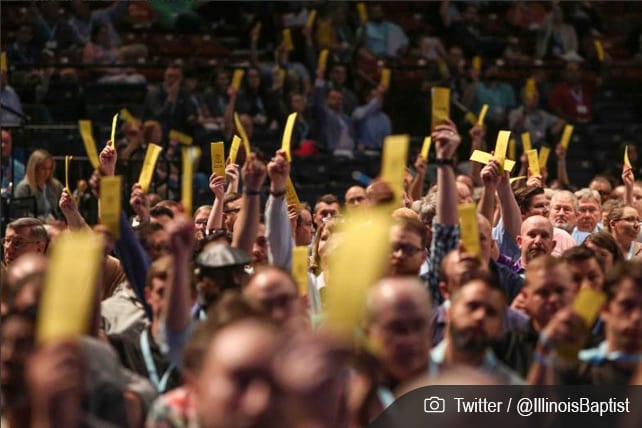 The Southern Baptist Convention (SBC) has taken significant steps toward strengthening its ability to discipline churches that tolerate sexual abuse or racial discrimination. At the SBC annual meeting earlier this week, delegates voted to pass amendments stating that if churches do not appropriately address those problems within their congregations, they will be put out of fellowship with the convention.
"I believe this is a very, very significant moment in the history of the Southern Baptist Convention," said Ronnie Floyd, president of the SBC Executive Committee, as reported by Religion News Service (RNS).
Another amendment made changes to the SBC bylaws that repurposed the Credentials Committee. The committee's new function is to review incidents of church misconduct as it relates to sexual abuse and ethnic discrimnation in order to determine if churches should be deemed "not in friendly cooperation" with the SBC. The Credentials Committee will have nine members, including the chairman of the Executive Committee and the SBC registration secretary. Three members will be nominated by the Executive Committee and four by the SBC Committee on Nominations. Disfellowshipped churches will have the opportunity to appeal to be reinstated.
The previous function of the Credentials Committee was to take care of the registration process of its delegates, who are called "messengers." The newly created Registration Committee will now handle these responsibilities.  
Floyd said that while it might take some time to nail down exactly how the Credentials Committee will operate, its repurposing is "an incredible move" for the convention. He also said that, if necessary, the SBC can always make additional changes to the bylaws. "But thank God," said Floyd, "we have today, once again, sent a clear signal, a concrete statement, that it's not only about what we say, but it's about what we do."
The amendments will not be official until they are voted on a second time and are passed by a two-thirds vote at next year's annual meeting.
RNS reports that despite the steps the SBC has taken to address the problem of sexual abuse in its ranks (such as commissioning the "Caring Well" report), there are people who would like to see the SBC do more. One sexual abuse survivor told RNS that victims would like the SBC to require its leaders and seminary students to complete training on how to recognize abuse. They would also like the SBC to create a database registering sexual abusers who have been convicted or credibly accused.
Other Issues Addressed 
Other items addressed at the meeting included a report on the increasing diversity within the SBC, both in terms of race and gender. Messengers also passed a series of resolutions expressing the SBC's viewpoints on various issues. The resolutions passed this year covered topics that included Christian persecution, abortion, biblical authority, same-sex attraction, gene editing, women being drafted into the military, and Christians and politics.
In his opening address to the Executive Committee, SBC President J.D. Greear, who was elected to serve a second year, emphasized how important it is for the convention to handle its current challenges well. He said, "I want to be careful not to overblow this … [but] how we respond to some of these things that are ahead of us will not only shape our witness in the present, it will also shape who Southern Baptists are for generations to come."
Greer also said that caring for sexual abuse victims is a key aspect of God's call to church leaders: "Brothers and sisters, this is our mission. As shepherds of God's people, we are charged to protect God's people and we are also charged to reflect the Gospel, and we serve a Savior who laid down His life for the vulnerable, to offer a safe refuge for them. That means that God's shepherds ought to be willing to show the same degree of fierceness in their devotion to this."