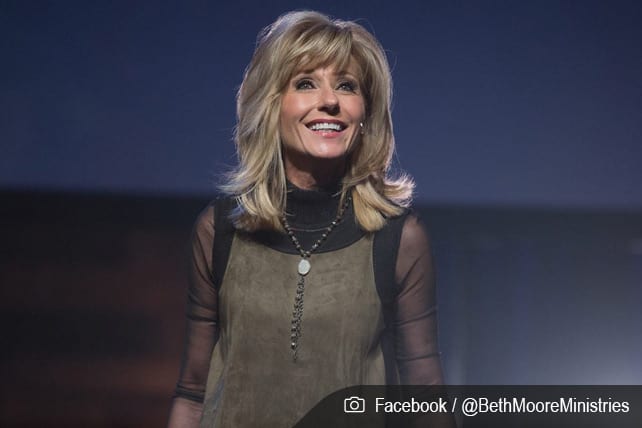 Beth Moore is certainly no stranger to criticism, and lately the amount of criticism coming from within her own Southern Baptist camp has been noteworthy. While Moore spoke on stage at the SBC's annual meeting this year, her name did more than grace the meeting agenda. It also came up in heated debates about the role of women in ministry and, more recently, in an open letter demanding Moore clarify her stance on homosexuality.
According to Michelle Lesley and a handful of other "female Bible teachers", Moore's "Johnny-on-the-spot readiness to engage issues related to misogyny and racism" call into question her "virtual silence on the issue of homosexuality."
The letter alludes to the various public statements Moore has made recently on issues such as abuse and its coverup, Christian misogyny, and ignoring racism. Most recently, she has been in hot water with several leaders—men and women alike—in the SBC who took issue with her speaking from the pulpit on Mother's Day.
Called Into Question: The Company Beth Moore Keeps
Lesley et al take issue with the "very public mutual affection and admiration" Moore shows to a couple people who have effectively been "excommunicated" from the evangelical fold. Lesley points to Twitter exchanges between Moore and Jen Hatmaker and Moore and Jonathan Merritt specifically.
Lesley articulates the problem with Moore striking such amicable relationships with Merritt and Hatmaker this way:
Given his beliefs, Merritt publicly saying that he believes you to be "an angelic being having a human experience" strongly suggests that his high praise of you is, at least partially, rooted in your views on this issue that you have shared with him privately. It seems most unlikely that he would be praising you so highly if you had told him that as a homosexual man he will perish for all of eternity unless he repents. It likewise seems unlikely that Hatmaker (a married, straight woman) would praise you so highly if you told her that her affirmation of homosexuality and homosexual marriage is sinful and that she must repent.
In addition, Lesley argues, given Moore's "very vocal stance" on "gender/racial/abuse issues", her "total silence" on the issue of homosexuality raises a lot of questions.
Lesley opened the open letter up to allow anyone who wished to add their names to the original six signatories. As of this article's publishing, the letter has garnered 178 signatures.
This Isn't the First Time Lesley Has Articulated Frustration With Moore
In a blog post that appears to have been first published in 2014, but has been updated recently,  Lesley outlines five reasons "It's Time to Start Exercising 'Moore' Discernment." Among the reasons is the alleged lackadaisical attitude Moore displays about preaching while men are present in her audiences. Another reason concerns Moore's affinity toward hearing from God in a "personal, extra-biblical revelation" type of way.
Others Agree with Michelle Lesley 
Lesley is not the only one with a Twitter following who feels this way about Moore. Josh Buice, a writer and pastor, has also recently written a blog post outlining his concerns with Moore. "Beth Moore has clearly twisted the Scriptures and used the social justice movement to fuel her agenda. Suddenly, anyone who speaks out against her and this progressive deconstructionist trend are shouted down and labeled as misogynists," Buice writes. 
Buice also takes issue, specifically, with Moore's ecumenicalism, which is apparent in her willingness to work with other Christian leaders from different denominations and a comment she made about Catholics being her "brothers and sisters in Christ." Lesley also takes issue with Moore's ecumenicalism—specifically her partnerships with Joyce Meyer and Christine Caine. 
Buice shared Lesley's open letter on his Twitter account and urged his followers to read it.
Will Beth Moore Respond?
Since the open letter's publishing on Wednesday, Twitter has been aflame with the debate. So far, Moore hasn't addressed the letter publicly (she rarely addresses criticism directly), but she has made a couple comments that could very easily be interpreted as alluding to the pettiness of the criticism. (Note the reference to a non-Southern Baptist in the first post). 
Should you ever, like John Wesley, find your heart "strangely warmed" by the Spirit, do not worry. You have myriads of fellow Christians on stand by with ice buckets.

— Beth Moore (@BethMooreLPM) June 19, 2019
The second one seems a little more pointed:
Beware of Bible beaters void of the Holy Spirit. Where the Holy Spirit goes, the Holy Spirit shows. If the fruit of the Spirit is not evidenced, they can hang Bible verses on their limbs all day long but something's still wrong with that tree. Jesus said know a tree by its fruit.

— Beth Moore (@BethMooreLPM) June 19, 2019

It is interesting Moore referred to fruit in that second tweet since Lesley posted a series of tweets in which she spoke about "Moore fruit."  
Moore fruit (Mt7:15-20)…

She's a public figure/professing Christian/Bible teacher. That makes it my business. There's no way someone who's taught the Bible for 40 years should still be "figuring this out." (James 3:1) These should be easy questions for any non-new Christian. https://t.co/oe1XrCWBxz

— Michelle Lesley (@MichelleDLesley) June 19, 2019
Several of the comments garnered by the debate point to the general public's disgust at the in-fighting present in the church today.
What do you think—does Moore need to answer Lesley's question about her view of homosexuality?