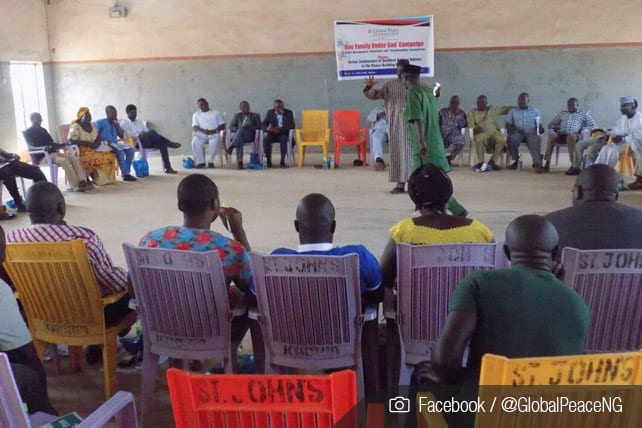 Not even two weeks after one Nigerian pastor and his family were attacked, Pastor Elisha Numan in Kaduna State has been kidnapped. Around 20 men abducted Numan and his son on Wednesday around 1:30 or 2:00 a.m. The abductors later released Numan's son, Emmanual Elisha, so he could negotiate a ransom for the release of his father.
"They forced their way into houses and vandalised properties and carted away some valuables, including mobile phones and clothing in my mother's box(luggage)," said Elisha, according to The Punch, a Nigerian daily newspaper. "They(kidnappers) later picked me together with my father. But after we have moved a while in the bush, I was released and they went away with my father."
Nigerian Pastors at Risk
Numan is the pastor of Nagarta Baptist Church Ungwan Makere near Udawa, which is in the Chikun Local Government area. Reports say that 20 armed and camouflaged men entered the village and pounded on people's doors, vandalizing and stealing their property. The men eventually forced their way into Pastor Numan's house, kidnapping him and his son. 
When the kidnappers released Elisha, they told him that he had five days to raise a ransom for his father before they would kill Numan. The abductors later called Elisha and gave the specific amount they wanted for the ransom: N20m, or around $56,000 USD. "We don't have that kind of money," said Elisha, "but we are still negotiating with them. 
On August 6th, The Punch reported that Pastor Jeremiah Omolara and his wife and son were attacked while traveling to Abuja on the Kaduna-Abuja Road, when gunmen fired at the vehicle, killing Omolara. They then kidnapped his wife, but his son escaped. Reports say that the abductors originally demanded a ransom of N50m for the release of Omolara's wife, but ended up releasing her for N3m. Omolara was the pastor of Living Faith Church, located in Romi New Extension in Kaduna State.
Religious Unrest in Nigeria
Open Doors ranks Nigeria 12th on its World Watch List, which lists the top 50 countries in the world where Christians face the most severe persecution. As ChurchLeaders has reported in recent months, there have been many Christians killed in Nigeria at the hands of militant Muslims. There is, however, religious extremism among some Christians as well, and not all Muslims are hostile toward Christians. Recently, a Nigerian imam risked his life to protect hundreds of Christians being targeted by Fulani herdsmen.
Reverend Joseph Hayab is the chairman of the Kaduna State chapter of the Christian Association of Nigeria (CAN). According to The Daily Post, Hayab believes that attacks against Christian clergy in Nigeria are increasing. He said, "The new trend is to attack [pastors] in our homes or in our churches or on the roads. We are just not safe anywhere and we are asking the same question we have been asking: 'where are our security agencies?'" Hayab called on the government to protect its citizens and questioned the government's reliability and integrity. 
"If we start defending ourselves, it means that we no longer have security or we no longer have government," he said. "Or is this government only for those they love and they don't care about others? We feel strongly that the federal government and the Inspector General of Police should do something about Kaduna, since we have a governor who does not listen and feels he knows everything." The Post reported that the PR officer for the Kaduna Police had not, at that time, commented on the situation.
Hayab has been involved with CAN since 1999, working to promote peace and trust among Christian and Muslim leaders in order to mitigate conflict in the region. He believes that poverty is the main source of conflict in Nigeria. "There is a severe lack of economic opportunity for many here," he said in a 2010 interview with the Berkley Center. "There is also a very low level of education throughout the north. Political and religious leaders exploit the undereducated, and they use them to foment conflict." Hayab noted that there are Muslim and Christian religious extremists in Nigeria and that the violence in the area is exacerbated by the fact that the "government has failed to establish the constitution as the ultimate authority in Nigeria."
Hayab believes four areas must be improved in order for there to be peace in the country: "We need the government to properly govern. We need improved education. We need the economy to grow. We need to marginalize religious extremists. If we can accomplish these four things, we will have peace in Nigeria."