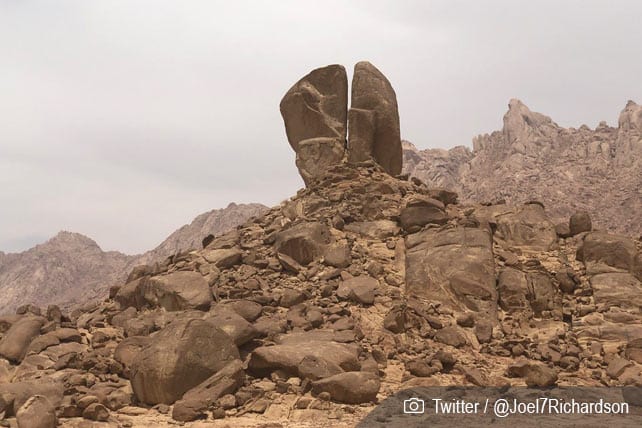 As part of its recent modernization efforts, Saudi Arabia is opening the Kingdom's doors to non-religious visitors from 49 nations, including the U.S. Tourist e-visas are available within minutes, officials say, and visitors are exempt from some social restrictions. Though "modest clothing" is still required, women won't need to wear the head-to-toe abaya or be accompanied by a man.
Until now, only businesspeople, their families, and Muslims on pilgrimage have been allowed into Saudia Arabia. On Twitter, the Kingdom boasts about its "rich traditions and warm-hearted people." Tourism chief Ahmed al-Khateeb says, "Visitors will be surprised…by the treasures we have to share—five UNESCO World Heritage Sites, a vibrant local culture, and breathtaking natural beauty." He also encourages investors to join the "fastest-growing tourism sector on earth."
Although Saudi officials hope to attract 100 million visitors and 1 million new tourist-sector jobs by 2030, some experts are skeptical. The Kingdom first "needs to raise its profile as a possible holiday destination," says Jim O'Brien, who owns a U.K.-based travel company. "For years it has been very closed to visitors, so this may take some time."
Factors such as regional competition, global connectivity, security, and geopolitical risks will be key, says economist John Sfakianakis. Because so many Muslims journey to the holy cities of Mecca and Medina, Saudi Arabia already has a solid network of air travel and hotels.
The Timing Behind the Move
Welcoming foreigners is part of Vision 2030, the reform program of Saudi Crown Prince Mohammed bin Salman. He's been trying to diversify the Kingdom's economy and reduce its reliance on oil. Meanwhile, bin Salman has faced concerns about human rights violations, including the Yemen crisis and the 2018 murder of dissident journalist Jamal Kashoggi.
The tourism announcement comes just weeks after a delegation of American Christian evangelical leaders met with bin Salman and other Saudi officials. The leaders, who traveled to the Kingdom last month as "ambassadors for Christ," says they were building relationships and encouraging continued reform. Support for Israel is important for many evangelicals.
The September visit, which occurred during the week of the 9/11 anniversary, was "in defiance of those that aim to derail reform in the Kingdom through an embrace of hate and fear rather than courage and moderation," according to the group.
Biblical Sites and Other Attractions to Visit
Saudi Arabia is much more than just desert, with archaeological and architectural wonders and several biblical sites of interest. Some people, including YouTuber Ryan Mauro, believe the "real" Mount Sinai, where God gave Moses the Ten Commandments, is Saudi Arabia's Jebel al-Lawz mountain. An ancient well is believed to be the meeting place of Moses and his wife, Zipporah. And Nebuchadnezzar, king of Babylon, is believed to have visited the ruins of Dedan, Wadi Tayyib, and Tayma.
Living Passages, an Idaho-based travel company, launched its "first-ever Christian tour of rare sites" in Saudi Arabia. Author Joel Richardson, who led a group to "Jethro's Caves in the Land of Midian," says, "This portends to be the most significant new archaeological site in modern history." The sold-out tour, which cost $9,000 per person, also includes a stop at the Split Rock of Horeb, from which God provided water for the Israelites. "We're tremendously blessed that the Saudi government is allowing us to visit the Kingdom to see some of its rich historical and geographic treasures," says Richardson.
Saudi Arabia's World Heritage Sites include Al-Ahsa, the world's largest oasis, featuring 2.5 million date palm trees; Mada'in Saleh, an ancient city with well-preserved tombs and cave drawings; and Masmak Fortress in Riyadh, a site key to Saudi Arabia's formation as a Kingdom of different tribes. Other attractions include the Red Sea coast, palace complexes, King Fahd's Fountain, the Jubbah rock carvings, the Al Wahbah crater (which has its own salt field), and the Jeddah Tower, billed to be the world's tallest building upon its completion in 2020.
Guidelines for Tourists
Although some social restrictions are being eased for foreign visitors, they'll need to pay close attention to Saudi Arabia's strict codes. Female tourists, though not required to be completely covered, still must cover their shoulders and knees in public. Men shouldn't wear shorts or go shirtless in public. Guidelines for "modest clothing" also apply at beaches.
Christians are advised against bringing Bibles and any non-Islamic materials into Saudi Arabia. Officials have indicated that having a Bible for private worship may be okay, but the Kingdom's religious police could report you for displaying one in public. Bringing a large quantity of Bibles into Saudi Arabia could result in "severe penalties."