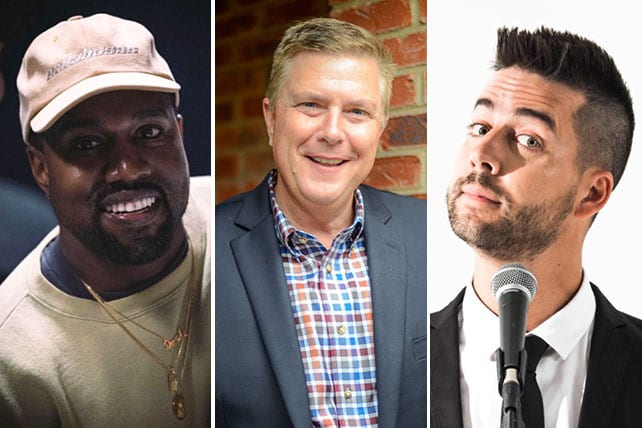 Kanye West will be bringing his Sunday service to the Strength to Stand student conference that will take place in January 2020. Strength to Stand founder Scott Dawson announced on November 21st that West is replacing Christian comedian John Crist, who is no longer headlining due to the sexual harassment allegations against him. 
"We were dealt a severe blow a couple of weeks ago when one of our main headliners we had to remove from our schedule due to a moral failure," said Scott Dawson in a video announcement about the news. "Our team was rocked, but we were solid that the Lord was going to work something out."
At the beginning of November, Charisma magazine broke a story reporting multiple sexual misconduct allegations against John Crist. The comedian then cancelled the rest of his 2019 tours and said he would "postpone all future commitments." Crist was set to have a new comedy special premier on Netflix on Thanksgiving Day, but the streaming company pulled it after the allegations became public.
Scott Dawson Gets a Call from Kanye
Dawson said that losing Crist put the Strength to Stand team in a difficult position, and "After countless calls to Christian artists and personalities across the country, we were about to lose hope." But then a friend had an idea. He said he knew a pastor who was mentoring Kanye West and asked Dawson if he were interested in finding out if the superstar would be willing to headline the conference. Dawson said yes, and several emails and a phone call later, "I was sitting at home on a Friday afternoon and my phone rang." Thinking it was a telemarketer, Dawson answered the phone and said, "This is Scott." He heard a voice say, "Hey Scott. This is Kanye West."
The conference leader said that once he recovered from the shock and the two talked, "I realized that although this is a worldwide megastar, he was a brother in Christ. He told me his testimony, he told me his struggles that he was still going through. He said that he's been delivered but he's on a growth journey with Jesus." And when Dawson thanked West for considering coming to the conference, the rapper responded, "After prayer and deliberation, I want you to know I'm not considering it. I'm coming."
The Strength to Stand Student Conference
Strength to Stand's January conference will take place in Pigeon Forge, Tennessee, from the 18th to the 20th. Fox News reports that after Dawson's announcement, hundreds of churches expressed interest and the conference was soon sold out. Dawson did say there would be a waiting list once the conference filled up because "We want everyone that's possible to get in to that room and to listen to Kanye West." 
According to the Strength to Stand website, the student conferences are "designed to offer a well-balanced, intense conference that will challenge your students to go beyond the surface of casual Christianity and bring them into a lifetime commitment to Jesus Christ…In addition to discipleship, students will be given the opportunity to respond to the Gospel. We make no apology in confronting lost students with the Gospel of Jesus Christ." 
While people are clearly excited that West will be headlining the conference, some have expressed concern about it. One woman called West a "fame junkie" while another man suggested that 1 Timothy 3:6 could be taken to mean that someone who is a new convert should not be given such a prominent place of leadership. 
KANYE WEST is bringing SUNDAY SERVICE to January's Conference! You don't want to miss this! pic.twitter.com/hOJRIVyPSA

— Strength to Stand (@strengthtostand) November 21, 2019
On Twitter, Dawson wrote, "Make NO mistake about it, this was a GOD moment. Only HE could do it."
Needless to say, the last 7 days have been a whirlwind. Thankful for Kanye being sensitive to the Spirit and lending his voice to Strength to Stand.

However, make NO mistake about it, this was a GOD moment. Only HE could do it. So…I cannot connect you to Kanye…only Jesus!

— Scott Dawson (@scottdawson) November 22, 2019