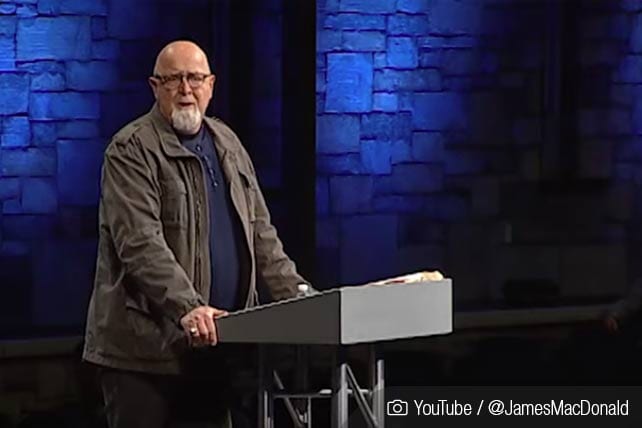 About a year after he was fired from Harvest Bible Chapel (HBC), "disqualified" pastor James MacDonald is returning to ministry. MacDonald claims his new ministry, which seeks to equip a network of home church groups, will provide "all the impact of a large church but none of the drama."
MacDonald's Home Church Network (HcN) is targeted toward those who "struggle to get to a church or to stay in a church, or to find a church with the teaching, worship and service opportunities that match your passions." 
MacDonald says he is "not disillusioned with traditional local church," however, "large churches present complicating logistics and often negatively affect Christian relationships. For that reason, we feel led by the Lord to offer an alternative for those who need it," MacDonald's website states. 
Home Church Network Coming to Homes Spring 2020
The Home Church Network will provide video Bible teaching geared specifically for home groups. The website states "widely loved and appreciated" worship leaders will provide worship sessions as well. Emphasis is placed on attracting those who would hesitate to join a "traditional church" but would have no problem coming to a friend's home. "If you're building a core group or have longed for an opportunity to lead a ministry from your home with solid biblical teaching and worship designed to impact your neighbors and loved ones, this is an opportunity to prayerfully consider," the website states. 
Taking Applicants Now for Home Church Leaders
Those interested in leading an HcN group are encouraged to reserve a space for a two-day training being held in late spring. The training will offer teaching with James MacDonald and his wife, Kathy, who have over 35 years of ministry experience.
Not all applicants will be accepted for the training, though, and the website claims the application process is rigorous. HcN asks those up to the "challenge" to follow a seven step process that includes a phone and an in-person interview.
Additionally, those who are interested in attending an HcN group but are not near an established group are asked to fill out an application to join a weekly online service. Apparently there are beta-groups in four states that have already started and whose leaders will complete training this month. 
MacDonald Addresses the Controversy
There is a section on MacDonald's new site that addresses the financial controversies linked to his legacy at HBC. Justifying the limited information offered due to the ongoing arbitration concerning claims of financial mismanagement between MacDonald and HBC, the site nonetheless asserts statements from HBC are false. The site reads: 
There was no "secret" account, no lack of accountability, no coercion of co-leaders. The character of the men and women who served with me is revealed by their long suffering and silence. By patiently awaiting an arbitration panel's review of the facts so that truth can be objectively established, they behave in a manner befitting the integrity of their financial leadership at HBC through 2018—which stands in stark contrast to 2019 HBC leadership.
The site explains "we" [presumably the MacDonalds] haven't been allowed to see any of HBC's documentation, and states that they did nothing outside of the normal practices typical of a ministry of Harvest's size. The site alleges that HBC twisted the accusations for their own gain. Implying that HBC has muddied the process, the site states arbitration "could have been concluded already."
"Repentance"
MacDonald was caught on what he claims was an illegal recording that was aired on Chicago shock jock Mancow Muller's radio show in 2019. On the recording, MacDonald's trademark voice is heard joking about planting child pornography on a Christianity Today editor's computer. He also makes disparaging and incredibly inappropriate remarks about freelance journalist Julie Roys, who broke the news of MacDonald's alleged mismanagement in an investigative piece for World Magazine. In May of 2019, the saga intensified when Muller accused MacDonald of asking him to hire a hitman. The HcN site includes MacDonald's apology (featured under a subheading reading "Repentance") from November 8, 2019 concerning that incident: 
I was, am, and will remain very sorry for the careless and hurtful words that were illegally recorded and publicized. I immediately sent written apologies where appropriate, grieving what it revealed about the state of my heart at the time, as well as the hurt caused to those who trusted us to be a more consistent example of Christlikeness. I have no excuse and am truly sorry.
After publishing that apology, MacDonald filed paperwork to sue Muller for defamation, invasion of privacy, eavesdropping, and emotional distress. MacDonald also sued Roys in 2018, along with a handful of other people, but ultimately dropped that lawsuit.