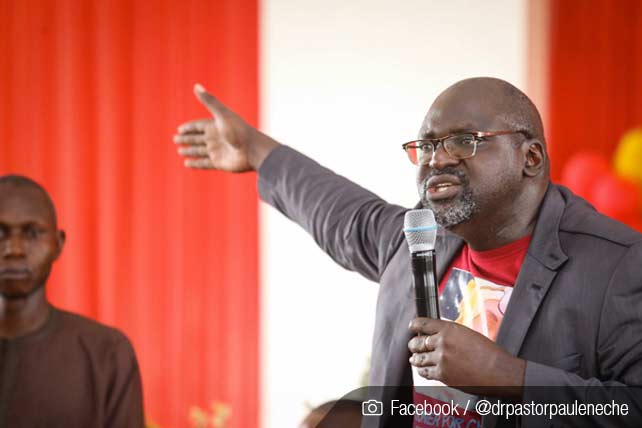 It's been two years since Christian student Leah Sharibu was kidnapped by Boko Haram. The Christian Association of Nigeria (CAN) organized a service and peaceful march to mark the anniversary on Wednesday, February 19, 2020. Victims of Boko Haram's terror were in attendance, and church leaders amplified their voices to once again appeal to Nigeria's President Muhammadu Buhari to intervene in Sharibu's case and to help stop the persecution of Nigerian Christians generally.
"The one message I have is that there should be no political statements. Mr. President, may God strengthen your hands and may Leah be set free," said Gideon Para-Mallam, an activist and former regional secretary for the International Fellowship of Evangelical Students.
Despite Para-Mallam's comment, the service and march waded into political commentary, with numerous attendees calling out what they perceive as the government's lack of action concerning the release of Sharibu and the ongoing violence against Christians in Nigeria. 
Some People Turn a Blind Eye to the Persecution of Nigerian Christians
Paul Eneche, the Senior Pastor of Dunamis International Gospel Centre, called the present insecurity in Nigeria an "orgy of foulness" at the service on Wednesday. At a news conference the day before, Eneche drew attention to the persecution of Christians happening, especially in the northeast area of the country (where many of the kidnappings and killings perpetrated by Boko Haram are occurring). According to the Daily Post, Eneche lamented that many Nigerians are willfully oblivious of the dire situation, comparing it to a "bankruptcy of awareness." He continued:
All is not well in the land. But in the name of Jesus, it shall be well. We believe that as this awareness rises, people take responsibility to say no, instead of keeping silent in the name of passivity, timidity and allowing the status quo to go. There are people in this country who are silent as if they have gummed their lips. People are watching evil going on and they say nothing. I want to say that if you are a businessman, you can only do business if there is a nation. If you are a pastor, you can only pastor a church if there is a nation. These things cannot continue anymore. 
Eneche concluded his thoughts by saying those supporters and collaborators of terrorism should know their "days are numbered." "The silence of good men is more wicked than evil of wicked people. When good men agree to keep quiet, evil thrives," he said.
Speaking on behalf of CAN President Samson Ayokunle, Dr. Caleb Ahima said the lack of action from the government is concerning for more than one reason. Ahima warned that under the present conditions, people will likely turn to anarchy: "We call on the Federal Government today that we are getting to a point of anarchy. It is the constitutional responsibility of government to protect lives and property of citizens."
The widow of Rev. Lawan Andimi attended the events and said she was thankful for the support she has received. She also said she was thankful that her husband died knowing Jesus Christ, and she encouraged those present to be strong in their faith. Rev. Andimi was captured by Boko Haram and killed in January.
Earlier this month, Buhari claimed that 90 percent of Boko Haram's victims are Mulsim, a claim which CAN leaders vehemently refuted.
Speaking to Christianity Today on their Quick to Listen podcast in 2018, Para-Mallam explained the unique demographics present in Nigeria. Nigeria has the largest population of any African nation; in fact, "one in every four Africans is a Nigerian," Para-Mallam explained. Additionally, it represents the largest Muslim population in a single nation in Africa, as well as the largest Christian population in a single nation in Africa. Para-Mallam said the Christian community is "vibrant and very, very committed to sharing their faith in Jesus Christ." At the same time, "you also have these vibrant Muslims who are ready to advance Islam." Para-Mallam explained this makes for a volatile situation in the country. 
The 2020 World Watch List ranks Nigeria as 12 on its list of countries where Christians face the most persecution.