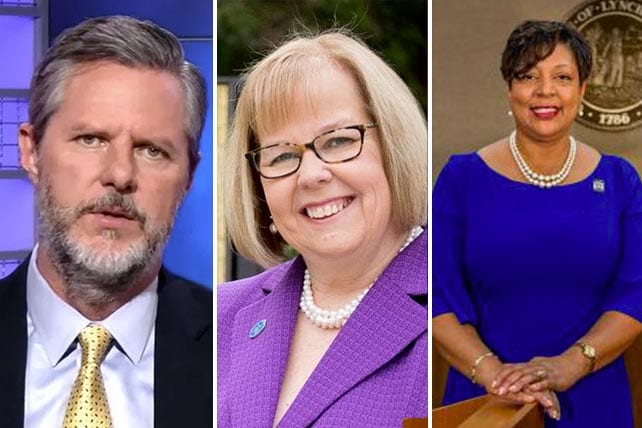 Ten days ago, Liberty University President Jerry Falwell Jr. made headlines for deciding to remain open after spring break—but then reversing course when Virginia's governor limited public gatherings. Now the school and its polarizing leader are making news again, as officials of the city of Lynchburg, Virginia claim Falwell misled them about his intentions for campus operations.
As the virus outbreak intensified earlier this month, Falwell downplayed the threat to Liberty and even suggested school officials were "protecting the students by having them on campus together" because their age made them low-risk. He emphasized that some students at the evangelical Christian university had nowhere else to go, that public institutions still had on-campus residents, and that Liberty was taking precautions.
Why Local Officials Are Upset at Liberty
On March 23, Falwell announced that the Lynchburg, Virginia, campus would reopen residence halls after spring break. "Our thinking was, 'Let's get [students] back as soon as we can—the ones who want to come back," he said in a statement. He added that Lynchburg's mayor and city manager "thanked us for making that decision."
Those officials, however, claim they were misled. City Manager Bonnie Svrcek says Falwell wasn't "totally transparent." Mayor Treney Tweedy issued a statement Tuesday, saying, "At no time did I or the City Manager endorse having the students return to Liberty University's campus… In fact, it is quite the opposite." She adds, "When we asked President Falwell to close his campus, he explained that he had to remain open for on-campus international students who had not gone home, some lab classes, and the School of Aviation. President Falwell also noted that the University would be moving to an online platform for instruction."
Tweedy says that on March 16 she thanked all area colleges for closing or limiting access to campus. But then, "I was very surprised and disappointed to later learn of President Falwell's most recent decision to allow students back." The mayor expressed concern for students, staff, and the community. "Liberty University is an important part of this community; however, I believe it was a reckless decision to bring students back on campus at this time. It is unfortunate that President Falwell chose to not keep his word to us."
Jerry Falwell Jr.: "Liberty did not reopen" 
Falwell has given several interviews this week, attempting to clarify the situation. On CNN's New Day, he said, "Liberty did not reopen. Liberty [currently] has between 1,000 and 2,000 students on a campus built for 15,500, and almost a thousand are international students who have nowhere else to go. Others have no place else to be except in their dorms."
Campus looks like "a ghost town," Falwell says, adding that he joked with a few students that they "pretty much had the whole place to themselves." Arrangements were finalized only a few days ago, he says, but he believes "Liberty's practices will become the model for all colleges to follow in the fall, if coronavirus is still an issue."
At Liberty, Falwell says, "All the education is being done online. All the restaurants are serving takeout only. We are wiping down every surface that is touched off on every hour, we have extra police." After conducting unannounced inspections, the local health department found no violations of the executive order. A former hotel owned by Liberty could serve as a quarantine site, if necessary, school officials say.
During a March 25 news conference, Virginia's governor criticized Liberty for sending "mixed messages" and quoted Scripture about proving faithful (1 Corinthians 4:2). "I would suggest Mr. Falwell look to the actions of the leaders of Virginia's flagship universities," said Governor Ralph Northam, "and reconsider his message that invites and encourages students to return to campus."
In his defense, Falwell said Liberty was fully complying with orders and that students, as employees and taxpayers, shouldn't "be banned or discouraged from choosing to utilize the shelter and food sources that they paid for in a time of crisis." He added, "I think we have a responsibility to our students—who paid to be here, who want to be here, who love it here—to give them the ability to be with their friends, to continue their studies, enjoy the room and board they've already paid for, and to not interrupt their college life."
Falwell invited Northam "to come and see our compliance for himself, rather than making false accusations in press conferences from Richmond. As the Ninth Commandment says, 'Thou shalt not bear false witness against thy neighbor.'"
Reactions From Staff, Students Vary
In a piece for Religion News Service, Liberty professor Marybeth Davis Baggett urges the university's board of directors to "stop [Falwell] and shut the campus down before it's too late." She writes, "I have been told that my colleagues and I must conduct our classes from our offices, even though that instruction is now being delivered virtually. We are also expected to hold office hours and welcome students for face-to-face interaction."