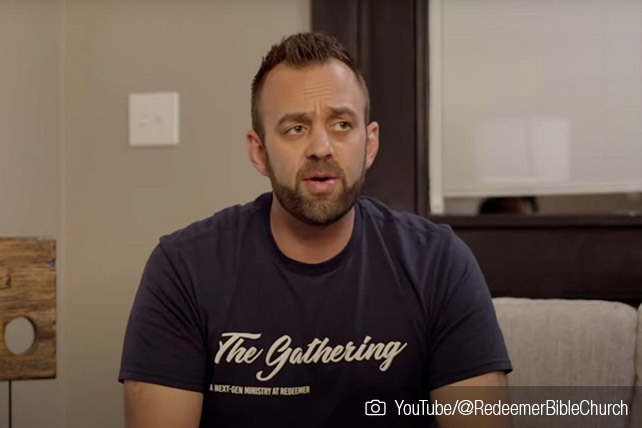 Costi Hinn made a big theological shift in recent years—casting aside the prosperity gospel made famous by preachers like his uncle, Pastor Benny Hinn. With that shift in theology came a shift in lifestyle, too. Hinn grew up in the same circles as today's so-called "celebrity pastors" like Rich Wilkerson, Jr. and Judah Smith. While he thinks they operate differently than his uncle, Hinn does think some in this new generation of preachers function more as motivational speakers than true shepherds. 
Hinn wishes these preachers would "be willing to tell people the truth—don't just be a motivational speaker." Speaking on the PreachersNSneakers podcast, Hinn is concerned his former peers care too much about gaining and keeping followers than they do about preaching the gospel. "Be a real soldier; a real warrior; a real preacher on the front lines who's willing to lose if it means gaining Christ," Hinn exhorts.
Costi Hinn Lived the 'Good Life'
"Our family was definitely the Bentley-driving, Maserati-driving, $10-million-home-buying family, and we flew in gulfstreams and all that," Hinn said. While this is the extravagant lifestyle Hinn was born into, he continued it as a young adult and ministry leader himself. Hinn laughs as he recalls being truly saved when he was already in a ministry position at a church plant in southern California. 
The church plant was "in the Judah Smith, Carl Lentz, Chad Veach scene," as he describes it. "It was just look good, feel good, sound good, and then do some Jesus—sprinkle him in, he's kind of a footnote of it all." Hinn said the church plant exploded, and implies his paycheck did as well. Hinn used to drive a big H2 Hummer with all the bells and whistles. But, he started to ask some deep questions after he got married and experienced some family turmoil. 
During this time, Hinn started reading the Bible and it caused him to examine how he was used to living. Hinn came to the conclusion that his extravagant lifestyle and the teachings of the Bible did not align. To their credit, the other ministers at the church plant agreed with Hinn's shifting thinking and they started taking the plant in a completely different direction. Hinn says they lost people, but it was worth it.
As Hinn reflected on the way he grew up and how his family lived, he became increasingly uncomfortable. They were "living off poor people and rich people we were manipulating," Hinn realized. "It's really sick and twisted when you take a bunch of offerings from sick, poor people, and even rich people who have a kid with down syndrome, and you tell them God will heal their down syndrome kid and cure it if they give you a check for half a million and they do, and then you go fly on your private plane home and the down syndrome kid doesn't get healed." 
Hinn says he had to go through a season of "pulling back" and reorient himself after he was truly saved. He describes his wife donating her Louis Vuittons to a rescue mission as the couple left behind that extravagant lifestyle. Hinn currently holds the position of executive pastor of discipleship at Redeemer Bible Church in Gilbert, Arizona. 
The "Guys" Costi Hinn Grew Up With
"A lot of the guys on your account," Hinn says to the host of the PreachersNSneakers podcast (who chooses to remain anonymous), "their dads were pretty decent preachers, just good guys, they weren't real wild, rolling in Bentleys and all that." However, these decent preachers' children aren't following very closely in their parents' footsteps, Hinn implies. "This whole next generation of guys that are sort of like this Christian TED talk motivational speaker types, they really hit it in the business world. It's almost like gospel business." 
While it may look different than his uncle's style, Hinn says it shares some of the same elements and motivations: 
They stay away from the white suits like my uncle [wears]. They're not speaking in tongues everywhere and throwing their jackets at people and doing massive crusades. They're appealing to culture in a way that is (for lack of a better word) 'sexy' or 'trendy' and that's really attractive to the culture that's like, "Man, these guys aren't weird faith healers and I don't know what a prosperity preacher is, but these guys are ballers and they love God, so that's the best of both worlds."