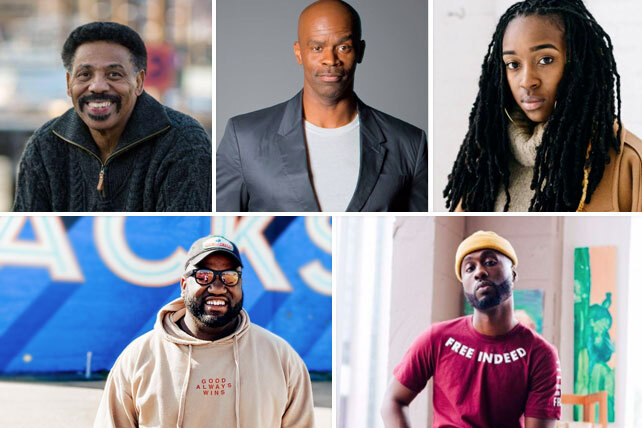 Racial profiling is not an exception, but is the norm for many in the black community. As protests have spread throughout the U.S. and across the world in response to the deaths of Ahmaud Arbery, George Floyd, and many others, some black pastors and ministry leaders are sharing their experiences with being treated unequally.
"Never will people know what it's like from the other side to be black or to be a person of color," said Davoreon "Tiki" Broome, a black pastor from Mississippi, "but the best thing you can do is to sit and listen, to put your bias aside, to put politics aside, to put your agenda or what you want to accomplish aside and just listen. When people's voices are heard, it's amazing how well that helps people heal."
On Tuesday, June 2, someone vandalized Broome's vehicle by keying it and writing the n-word all over it. Broome, who lives in Clinton, Mississippi, is the interim student pastor of First Baptist Church in Yazoo City. He has been outspoken about racial injustice, and while he has received support for his views, he has also received anonymous, hateful messages because of them. Those messages and the subsequent vandalism of his car have made Broome feel fearful, uneasy, and angry, but he is not going to back down from speaking out.
Even though he did not at first want to publicly share what had happened to his car, he decided it would be worth doing so in order to raise awareness and bring unity to his community. "People need to hear," he said, "people need to listen, people need to not be so quick to think that this doesn't affect them or that things are a certain way."
Ministry Leaders Share Stories of Racial Profiling
Other ministry leaders are sharing about their own experiences with inequality and racial profiling. On Instagram, Christian comedian Michael Jr. shared a story about something that had happened to him at age 19 while he was living in Grand Rapids, Michigan. At the time, he was trying to save money to buy his own oil change business and was working 16-hour days. He knew that some of the people in his apartment complex, which was not very nice, were selling drugs. One night, when he arrived home feeling completely exhausted, he realized from the atmosphere and the silence around him that his neighbors had been raided by police. 
Michael Jr. rolled down his window, putting both of his hands outside his car and announcing he had nothing to do with the drug bust, but that he had just gotten home from work. He slowly got out of the car and as soon as he closed the door, 15 to 17 officers rushed up to him, telling him to put his hands up—even though he already had. The comedian said he did not blame the officers for being aggressive since they had just conducted a drug raid, but some of them then asked to see his ID, which he had accidentally left in his kitchen. 
The police officers walked him to his apartment so he could show them his ID, and he assumed they would leave as soon as they saw he had a key and actually lived there. Instead, they came in after him. Feeling scared, Michael Jr. moved to retrieve his wallet from his cupboard, narrating his actions aloud step-by-step and moving cautiously. Then, as he reached into the cupboard for the wallet, one of the officers put a gun to the back of his head and cocked the trigger. 
After the comedian pulled out his wallet, the officers verified his identity and the one who had threatened him left, while others stayed to make sure he wouldn't call anyone or complain about what had happened. "But really, who was I going to call?" he asked. "And then I remember sitting on the floor, heart in serious pain and just angry." 
But something happened next that proved to be instrumental in his healing. The lady whose boyfriend had just been busted for drugs came over crying and distraught, and Michael Jr. helped her by giving her some money. They were both in pain, and being able to help her in that small way helped Michael Jr. to start moving past his anger. "That lady gave me a gift that I needed right at that moment," he said, "and because of that, I've been able to forgive that officer."
In their most recent installment of "Meet The Perrys" on YouTube, Christian author and speaker Jackie Hill Perry and her husband, Preston Perry, described the racial profiling that Preston in particular has experienced and how that impacted how he felt when he heard about the death of George Floyd.
"As a black man who saw the video [of George Floyd's death]," said Preston, "it awakened some dark moments in me. It's hard for me to see that situation and not think about the time when I was in Macon, Georgia."
One time as a teen in Macon, Preston and some of his friends were in a hotel when four police officers arrived, put them in handcuffs, and stepped on their heads. Even though they all had alcohol and were underage, what made the officers most upset—Preston believes—was that there was a white girl with them. The officers, said Preston, "let it be known plainly that they did not like me solely because my skin was brown." Seeing George Floyd's death made Preston sad, but also made him thankful that he had not already died from being in a similar situation.
Jackie described one time when she saw Preston experience racial profiling while crossing a street in Portland. While crossing, he started running in order to make it through the crosswalk in time. There were two white people in his path, and they became afraid when they saw him coming and started running away from him.
Another time, the Perrys were traveling back to Chicago from Toronto and Preston got pulled aside because he looked "suspicious." He actually gets pulled aside a lot for random checks when traveling, but people don't usually come right out and say it's because of how he looks. Said Jackie, "I think it speaks to this big, this problem of black men and black skin period being assumed as criminal. People look at black men and think 'thug,' 'dangerous.'"
In a video with I Am Second in 2014, Dr. Tony Evans shared that while growing up in urban Baltimore, "I was reminded in many ways that I was a second-class citizen. It was frustrating, it was painful, it was hurtful. There were places I couldn't go, people I couldn't be with, simply because of the color of my skin."
My personal story on race: https://t.co/IMBr4czIWZ

— Tony Evans (@drtonyevans) June 8, 2020
In a more recent video, the pastor shared how, when raising his sons and grandsons, he has made sure to have a "talk" with them about how to prepare for racial profiling so they know how to act when a police officer pulls them over. 
Waking Up to Sin
Former NFL player Emmanuel Acho has described "white privilege" as "the ability to live life unconsciously." Acho believes that if white people truly want to bring about racial reconciliation, they need to listen to what the experiences of the black community are in order to "have full understanding."
Said Pastor Broome, "For people who say this is beneath them, this isn't happening, and this is just something people are riling up, no. This plain out and simple is sin. I'll say it again, this is 400 years of the bubble that is now popping in a different way."