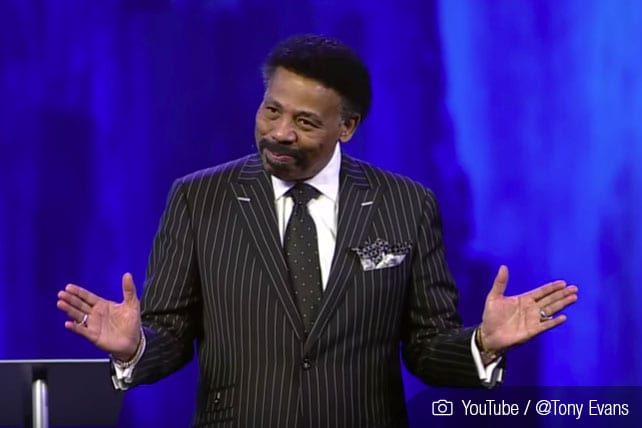 In a memorial tribute sermon he preached on January 5, 2020, Dr. Tony Evans reflected on the recent death of his wife, Lois Evans, and how she exemplified the words of the Apostle Paul in 2 Timothy 4. The pastor pointed to his wife as an example of living and dying well and exhorted his congregation to do the same.
"All of us have a time to go home. The problem is we don't know the time," said Dr. Tony Evans. "Who would have thought that from a human standpoint my greatest achievement, the Bible and the commentary, would coincide with my greatest loss?"
Dr. Tony Evans Reflects on How to Die Well
Lois Evans was diagnosed with gallbladder cancer about two years ago and was cancer-free at one point before her cancer returned last spring. Dr. Evans requested urgent prayer for his wife last October when chemotherapy and radiation were no longer options for treating her. Lois Evans passed away on December 30, 2019. 
Dr. Evans said he hoped his thoughts that morning would "benefit you and me as we move forward." He based his sermon on 2 Timothy 4:6-8, where Paul writes to Timothy,
For I am already being poured out like a drink offering, and the time for my departure is near. I have fought the good fight, I have finished the race, I have kept the faith. Now there is in store for me the crown of righteousness, which the Lord, the righteous Judge, will award to me on that day—and not only to me, but also to all who have longed for his appearing.
Paul knows, said Dr. Evans, that he will die soon and is saying goodbye to Timothy, who is his son in the faith. "One of the things I observed in life and in Scripture," said the pastor, "is that when people walk with God and he doesn't take them suddenly, he will give them a glimpse of heaven while they're still transitioning from earth. He will let them know, not only that it's time, but it's ok."
This was something Dr. Evans saw happen as Lois's health declined. Over the past month and a half, it became apparent that her time of death was approaching. During this time, there "were things taking place that were letting us know that she was dealing with something outside of the earth's realm." One incident was she said she could see her mother and father in the room, even though no one else could see them. She also seemed to know the day she would die because two and a half days before her death, she said, "Two days. Take me up." Dr. Evans believes something similar happened right before Stephen was martyred in Acts 7 when he looked up and saw Jesus standing at God's right hand in heaven. 
The pastor told his listeners to prepare for death now so they can experience God's nearness when they approach the end of their lives: "When the time of your departure comes, you want to be close enough to God that you can hear things that other folk can't hear and see things that other folk can't see."
Preparing for Death
But how can believers be prepared to face death? In the Scripture passage, Paul makes three statements indicating what he had done to live his life well and so that he was ready for his death. The first was he fought the good fight.
"I hope you know all fights aren't worth fighting," said Dr. Tony Evans. A good fight, he said, is one that helps those around you to be better. He challenged couples in the congregation who were having foolish arguments, noting that looking back, many of the little things he and Lois argued about were not worth fighting over.
He went on to point out other foolish fights: "Church members fight over seats, like that's a good fight. Folk fight over skin color, like that's a good fight. Cultures fight, genders fight, they fight over stuff that doesn't matter. If you, at your time of departure, want to be able to connect with heaven, you better choose your fights wisely."
The second statement Paul makes is that he finished the course. Said Dr. Evans, "It's good to know when your time is up, that you're finished." Don't waste your life, he told his congregation, by not following God, serving him, and building his kingdom. 
As a young person, Lois fully surrendered her life to God, even if that meant she would never get married or have a family. "This would lead to us meeting, us marrying, but it would also lead to her fingerprints being all over my life," said Dr. Evans. "There's no place that you go or that I go that has not been touched by her fingerprints."