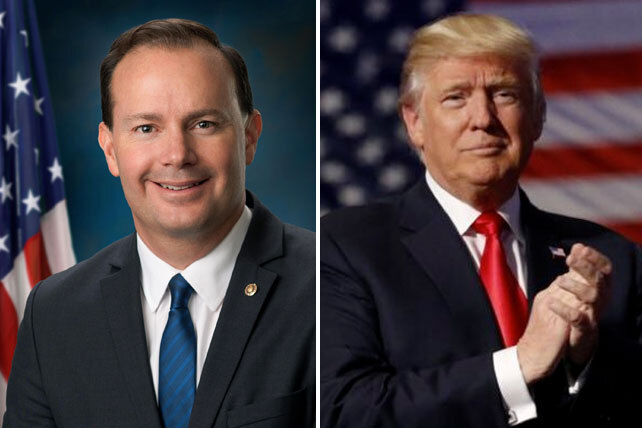 Sen. Mike Lee (R-Utah) and nine of his Republican colleagues have sent a letter to President Trump requesting that he put pressure on state and local governments that are practicing what they deem to be religious discrimination. In particular, the senators want the president to support restricting the COVID-19 relief funding that would otherwise go to such states and localities. 
"As you are aware," say the senators, "there continue to be reported cases of states and localities prohibiting religious entities, including houses of worship, from reopening safely despite compliance with safety precautions found in Centers for Disease Control and Prevention (CDC) guidance such as social distancing, building and surface sanitization, use of masks, etc. This discriminatory behavior violates our Constitution's guarantee of religious freedom, specifically the free exercise guarantee."
Senators: Pandemic No Excuse for Religious Discrimination
Observing that "there is no 'pandemic' exception to constitutionally protected rights," the senators reminded the president that on May 22, he urged state leaders to reopen houses of worship. Speaking at a press conference, Trump described houses of worship as "essential" and said, "The governors need to do the right thing and allow these very important essential places of faith to open right now for this weekend. If they don't do it, I will override the governors."
"This call for action appears to have fallen on deaf ears in many of our cities and states," write the senators. Even though Attorney General William Barr has said the government will fight religious discrimination, the letter's signees fear those steps could be "too little, too late" because of the lengthy nature of legal proceedings. They go on to say,
We, therefore, respectfully request that you consider taking additional measures within your authority to ensure churches, houses of worship, and religious institutions are able to reopen with appropriate CDC implemented guidelines. Additionally, we ask you to support proposals in Congress to place restrictions on any forthcoming COVID-19 relief funding to states and localities that prevent churches, houses of worship, and religious schools and institutions from reopening.
Joining Lee in signing the letter are Sens. Mike Braun (R-Indiana), Josh Hawley (R-Missouri), Steve Daines (R-Montana), Kelly Loeffler (R-Georgia), Thom Tillis (R-North Carolina), Cindy Hyde-Smith (R-Mississippi), Roger Wicker (R-Mississippi), James Lankford (R-Oklahoma), and Tom Cotton (R-Arkansas).
It is worth noting that the CDC's guidance is not meant to offer a one-size-fits-all approach for specific regions. The CDC website says, "The size of an event or gathering should be determined based on state, local, territorial or tribal safety laws and regulations" and also advises, "Be aware of local or state regulatory agency policies related to group gatherings to determine if events can be held." The senators did not offer examples of states they believe have violated worshipers' constitutional rights, although there are certainly candidates, depending on how one defines such violations. 
California Gov. Gavin Newsom garnered criticism when on July 1 he issued a temporary ban on singing, chanting, and group recitation in houses of worship. Newsom has since issued a ban on in-door worship services (churches are still allowed to meet outside) and has once again shut down bars, restaurants, gyms, and salons in most of the state. 
Last Friday, the Supreme Court of the United States ruled that a church in Nevada had to abide by a state order limiting its attendance to 50 people. The church's lawyers argued that the order is "unconstitutional" because casinos, restaurants, and other places of business are permitted to operate at 50 percent capacity and also because the state is allowing large-scale protests. According to Deseret News, other states that have put limits on worship services include Kansas, Kentucky, Maine, Michigan, New Jersey, and New York. 
The senators believe that if President Trump were to support withholding federal aid from states that are infringing on religious freedom,
Such executive action would send the nation and government leaders a clear and unequivocal message that religious liberty matters, and that no state or locality can unilaterally strip away protected constitutional rights.