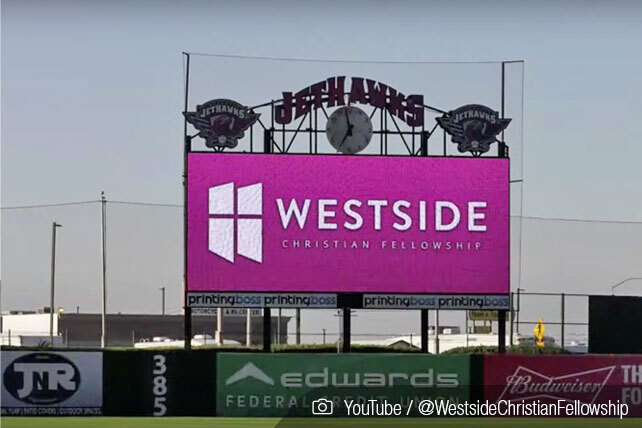 As California continues to be hit hard by COVID-19, religious leaders in the state say spiritual hunger is increasing too. Shane Idleman, pastor of Westside Christian Fellowship in Lancaster, 60 miles north of Los Angeles, points to that hunger as the reason his church's Stadium Revival has taken off.
More than 1,000 worshipers—including many without a connection to Westside—attended Saturday evening's gathering at a local stadium. Outdoor worship complete with a prayer tent will continue there throughout September, "God willing," says Idleman (no relation to pastor and author Kyle Idleman). The initial response, he says, "showed how spiritually hungry people are to be encouraged and uplifted and even convicted."
Shane Idleman: This Is a Spiritual Fight
In his July 25 message at the stadium, Idleman acknowledges the hardships people are facing. He then reminds attendees they're facing a "spiritual battle" and that God Almighty can't be stopped or restrained.
Today's church needs "spiritual power more than ever, not entertainment," Idleman says, adding that "repentance is the true mark of genuine revival." Quoting Duncan Campbell's book The Price and Power of Revival, Idleman maintains that today's church can "equal the church at Pentecost."
On Facebook, Westside describes its stadium gatherings this way: "The testimonies have been overwhelming: salvations, recommitments, marriages restored, prodigals coming home, addictions being broken—God is on the move." It adds, "Yes, we are honoring the City's COVID policies."
'Revival is America's only hope' 
Idleman, who's vocal about political and cultural issues, says church shutdowns are an attempt "to silence the voice of truth" and to suppress talk about Jesus. A national revival, he says, is "America's only hope," and the power of the Holy Spirit is needed in our pulpits, pews, and homes.
"Why isn't there a desperate call to God?" in our country right now, Idleman asks. The answer, he says, is that although America is afraid, she's not yet broken or humble. God's Word, the pastor says, offers healing and answers. "In a culture saturated by fake news," he says, "we need some truth."
To critics who say it's hypocritical for Christians to support President Trump, Idleman argues, "We are not following a man, we are shaping a movement." He continues: "The majority of news outlets spin everything (yes, everything) to put President Trump in a bad light. Their hatred for him trumps the truth. Their agenda is simple and clear: remove him from office at any cost! And I hope you realize this: They are really coming after you, me, and our Christian values."
On Facebook this week, Westside shared a controversial video that was later removed for what social media outlets called "misleading claims." Doctors on the video downplayed face masks and promoted hydroxychloroquine, a discredited treatment for COVID-19. One doctor has indicated that demons play a role in illness.
Wednesday morning, Idleman posted a YouTube video addressing the debate. The video's removal, he says, is proof of "ulterior motives," and he credits Trump for "standing in the gap." The pastor urges people to educate themselves and to realize that we're in a fight of "good vs. evil."