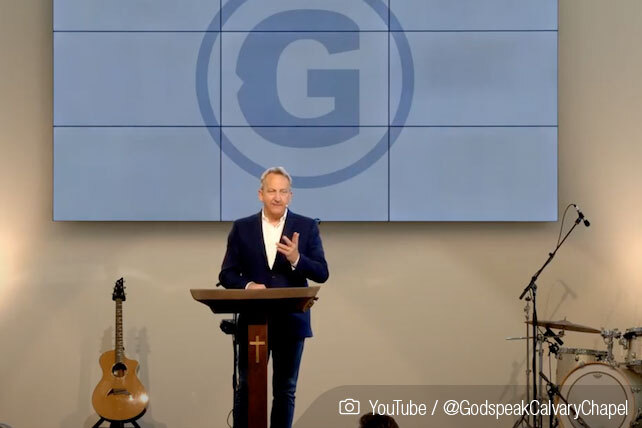 A Ventura County, California judge has denied the county's request to use law enforcement to enforce a restraining order designed to prevent Godspeak Calvary Chapel in Newbury Park from meeting in person. 
Citing the need to keep the sheriff's department "neutral" in the situation involving Godspeak, Superior Court Judge Vincent O'Neill Jr. reasoned it wouldn't be prudent to have the sheriff's department intervene at this point. 
Godspeak and Pastor Rob McCoy were issued a restraining order on Friday, August 7th by Ventura County. The order called for a temporary closure of the church, which the leadership at Godspeak decided to defy by holding services that Sunday. That order expires August 31st, at which date another hearing will be held to review the situation. According to the VC Star, the August 31st decision could potentially lead to a prolonged closure order for Godspeak. 
On Monday August 10th, McCoy joked that he received a "wonderful, wonderful birthday gift from the county" in the form of a court summons concerning Sunday's services. McCoy explained the county was seeking to "beef up" the restraining order to allow sheriff deputies to enter the church and stop services. 
Tuesday morning saw the judge hand down a split decision for Godspeak. While O'Neill denied the county's request to involve law enforcement, he did ask the church to stop meeting in person and also set another hearing date to address the church's and McCoy's involvement in defying the directive from the county. That contempt of court hearing is scheduled for August 21st.
Why Is Pastor McCoy So Adamant About Meeting?
Ventura County is on California's watch list for COVID-19 cases and therefore has been directed by Governor Gavin Newsom's office not to allow things such as indoor worship services. While outdoor services are permitted, McCoy says that's not an option for his church, which has over 1,000 members. 
McCoy has indicated in interviews that there isn't a suitable outdoor venue at which the church can meet. He also says that one of his staff members has a sun allergy. Additionally, McCoy believes the only reason Newsom is allowing outdoor gatherings is because he, according to McCoy, is encouraging the protests and riots taking place concerning racial injustice. 
Furthermore, McCoy reasons the precautionary measures being imposed on Ventura County are superfluous. "There's no emergency here. We haven't had any cases. You have a one in one hundredth of one percent chance of dying from COVID in our county," McCoy told Fox 11 on Monday. Ventura county is reporting 92 COVID-19 related deaths as of Monday. The county has a population of 851,297. McCoy went on to say that his church has experienced "zero cases" since they started meeting again in May. 
The pastor expressed his belief that the three county supervisors who decided to push for the restraining order didn't intend to have all this happen. Speaking during a "Fireside Chat" on Tuesday evening, McCoy says he wishes they had given the church the benefit of the doubt and found out that they have ionizing machines, UV lights, and sanitizing efforts operating in the building.
McCoy empathizes with the police officers who would have been called upon to enforce the order. "Police officers don't want to get engaged in that, but if the judge tells them that they have to, officers have to do that. That's a really tough spot to be in," he said. A lot of them may even worship at Godspeak, McCoy said. 
In addition to being in the company of other pastors with his decision to continue meeting in person, McCoy said that Jenna Ellis, from the White House counsel has reached out expressing support. Ellis is currently representing another California pastor in defiance of the gathering ban, John MacArthur of Grace Community Church in Sun Valley.