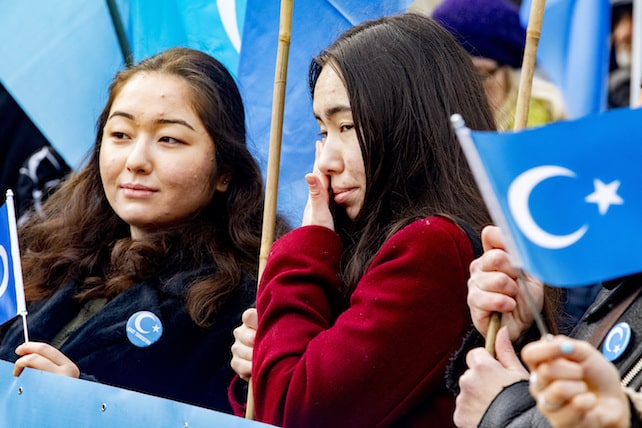 A new report from Radio Free Asia (RFA) sheds more light on the Chinese Communist Party's (CCP) campaign to carry out a Uyghur genocide by slowly and covertly exterminating the Uyghur population. Hasiyet Abdulla, a Uyghur obstetrician now living in Turkey, told RFA that hospitals are forcing women to get abortions and even killing their newborn children in cases where Uyghurs have exceeded the government's limit on the size of families.
"The regulations were so strict," said Abdulla. "There had to be three or four years between children. There were babies born at nine months who we killed after inducing labor. They did that in the maternity wards, because those were the orders."
Uyghur Genocide Happening in China
Abdulla worked for 15 years in hospitals in Xinjiang Uyghur Autonomous Region (XUAR), where Uyghur Muslims make up an estimated 10.5 million of the area's 24 million people. She explained that the CCP closely monitors the number of children that Uyghur and other minority families have, as well as how many years have transpired between births. Said Abdulla, "Every hospital had a family-planning unit that was responsible for implementation—who had how many kids, when they'd given birth to them—they tracked all of this." 
The birth control policies Abdulla described are not merely repressive—they include state-sponsored infanticide. "It's an order that's been given from above," she said, "it's an order that's been printed and distributed in official documents. Hospitals get fined if they don't comply, so of course they carry this out."
RFA can document the government compelling Uyghur women to get abortions at least as far back as 2005. It is also common for Uyghur women to be forced to undergo tubal ligation (where the fallopian tubes are tied or cut) and to get intrauterine devices (IUDs)—even if they have not exceeded the limit on the number of children they can have. Women have reported severe vaginal bleeding, as well as sterilization, as a result of Chinese IUDs. 
One woman who spoke to RFA anonymously said that she spent 30 years collecting fines from people who had violated the CCP's birth control policies. She herself has been taking an unknown birth control pill for over 10 years and is convinced the medication has led to hair loss and loss of memory. She said, "At first there were no side effects, but then [about a year later] my hair started falling out—now I have only a tiny handful of hair left, and scarves won't even stay on my head…My memory is unusually bad. I can't even memorize my childrens' phone numbers." The woman says she knows 40 to 50 other people who are experiencing the same symptoms from the unknown medication. 
Adrian Zenz, senior fellow in China Studies at the Victims of Communism Memorial Foundation, recently published a report that extensively documents evidence of the appalling methods the CCP is using to suppress the growth of the Uyghur population. Zenz says:
Intrauterine contraceptive devices, sterilizations, and forced family separations: since a sweeping crackdown starting in late 2016 transformed Xinjiang into a draconian police state, witness accounts of intrusive state interference into reproductive autonomy have become ubiquitous. While state control over reproduction has long been a common part of the birth control regime in the People's Republic of China (PRC), the situation in Xinjiang has become especially severe following a policy of mass internment initiated in early 2017 (China Brief, September 21, 2017) by officials of the ruling Chinese Communist Party (CCP). 
Zenz says his findings support the idea of a Uyghur genocide and "provide the strongest evidence yet that Beijing's policies in Xinjiang meet one of the genocide criteria cited in the U.N. Convention on the Prevention and Punishment of the Crime of Genocide."
More Than a Cultural Uyghur Genocide
As ChurchLeaders reported last year,  at least one million Uyghur Muslims have been placed in so-called "re-education" camps in XUAR (the "mass internment" to which Zenz referred), although Reuters reports this number could be closer to three million. Chinese party leaders are accomplishing this Uyghur genocide through creating a police state. They use highly advanced technology, such as facial recognition systems, to surveil and control the Uyghur people and other ethnic minorities. In the name of stopping terrorism, the CCP has detained Uyghurs for reasons including "extremist thoughts," having too many children, and practicing their religion.