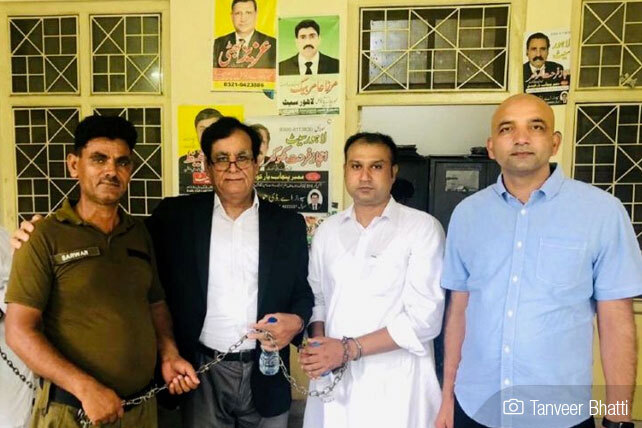 On Tuesday, a Christian man in Pakistan was sentenced to death on charges of committing blasphemy. Asif Pervaiz, 37, is a father of four and has been imprisoned since Oct. 10, 2013, after his supervisor accused him of sending him texts demeaning the Quran and the Muslim prophet Muhammad. 
"The evidence on record was clearly not enough to sentence Asif Pervaiz to death," Saif-ul Malook told Christian Solidarity Worldwide (CSW). Malook is Pervaiz's lawyer and also represented Asia Bibi in her highly publicized blasphemy case. 
Asif Pervaiz has been sentenced under 295-A, 295-B, and 295-C of the Pakistan Penal code, which makes blasphemy a crime punishable by death. The court ordered him to be fined 50,000 rupees (about $300) and to serve three years in prison for "misusing" his phone. After that term is complete, says the order, "he shall be hanged by his neck till his death." Malook said the Christian father is planning to appeal his sentence. 
"From my experience in the Asia Bibi case, judges in appeal courts hesitate to hear and decide blasphemy cases," said Malook. "Cases involving murder are usually decided within three years, but blasphemy charges can take up to over seven years, just like the couple, Shagufta and Shafqat, who have been charged with blasphemy and whose case file has been roaming from one bench to another for hearing."
Asif Pervaiz sentenced to death by trial court at Lahore for committing blasphemy although there was no such evidence

— Saif-ul-malook (@Saifulm32731039) September 8, 2020
Asif Pervaiz Gets Death Sentence Because of Text Messages
Before his imprisonment, Pervaiz worked at a garment manufacturing company owned by a Muslim man named Saeed Ahmed Khokhar. AsiaNews reports that Pervaiz claims he quit his job because Khokhar was pressuring him to convert to Islam. According to Al Jazeera, Pervaiz said that Khokhar tried again to get him to convert even after he had left his job. When he still refused, the employer told authorities that Pervaiz had sent him blasphemous texts. Pervaiz denies ever sending such texts and said that his SIM card was stolen before they were sent. He believes Khokhar was retaliating against him for refusing to become a Muslim.
Khokhar's lawyer, Ghulam Mustafa Chaudhry, maintains his client never tried to convert Pervaiz and argues that there are plenty of other Christians at the factory who have not complained about the owner targeting them.
Pervaiz reportedly hid from authorities when he heard there was a blasphemy charge against him. Police responded by arresting his brothers-in-law and his mother and by beating his friend, Waseem Anwar, to find out Pervaiz's location.
President and Executive Director of Human Friends Organization, Sajid Christopher Paul, spoke to Aid to the Church in Need and described the toll that Pervaiz's long imprisonment has taken on his family. Said Paul, "He's been in prison for seven years and they haven't been able to spend time with him. His youngest twins were born when he was arrested and he hasn't held them in his lap or his arms."
Paul also explained that the lower courts in Pakistan are more likely to bow to pressure from extremists because they do not have the same ability to protect themselves that the higher courts do. He said, "The Supreme Court can make daring decisions like the acquittal of Asia Bibi because they have high-level security."
The acquittal of Asia Bibi, a Christian woman who spent eight years in prison because of a blasphemy accusation, was indeed a daring decision. When Bibi was first acquitted in 2018, over 1,000 Islamic extremists protested, blocking roads and burning tires in the capital city of Islamabad and forcing several schools to close. Although Bibi was finally able to make it out of Pakistan with her life intact, her ordeal was lengthy and extensive. Even now, other Pakistani Christians are suffering in similar ways.
The couple Malook mentioned, Shagufta Kausar and Shafqat Emmanuel, were also accused of sending texts blaspheming the prophet Muhammad. The result was they were imprisoned for six years before the Lahore High Court recently sentenced them to death. The couple has appealed this decision, but their appeal has been delayed.
Mervyn Thomas, CSW's founder and president, commented on Pervaiz's sentencing, saying:
We are very concerned by the trial court's decision to sentence Mr. Pervaiz to death. Pakistan's harsh blasphemy laws have proven to be a source of suffering for many, and are regularly abused. Mr. Pervaiz now has to endure further, indefinite imprisonment, given the nature of blasphemy charges and the social interests surrounding it. We urge the authorities to allow Mr. Pervaiz to appeal his case for reconsideration and ensure that all evidence is carefully considered.