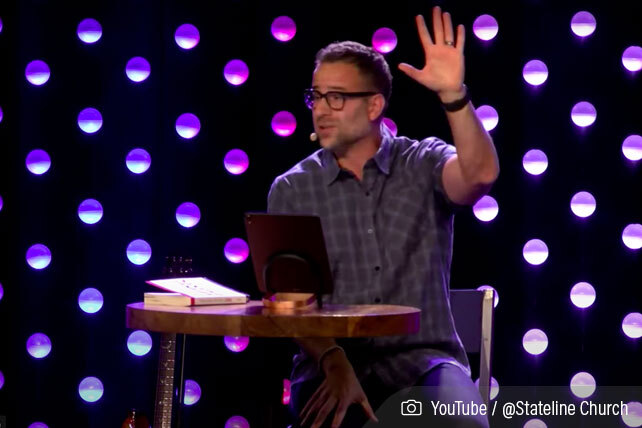 Stateline Church in Rockford, Illinois, is challenging its members to have political conversations over dinner with people who have different views than they do. The church gave away $50 gift cards in order to support local restaurants and encourage believers to have discussions where they show Jesus' love instead of tearing others down. 
"If you are a Christ-follower," said lead pastor Gregg Giamalva, "why would you want to tear down a bridge when a bridge is the pathway that the Holy Spirit will move in between us? Even if somebody disagrees with you, even if somebody has a difference of opinion with you, why would you ever ruin a relationship that has the opportunity to introduce Christ into it? It's never made sense to me."
Stateline Church: Let's Talk (Kindly) About Religion and Politics
On Oct. 11, Giamalva kicked off a two-week series called "Thou Shalt Not Be a Jerk," a title he took from a book by former pastor Eugene Cho. Giamalva introduced his sermon by pointing out something we have all experienced: Conversations about politics can easily become heated and extremely unpleasant. The pastor recounted a story from his own life when a political discussion between him and a friend and former boss escalated to the point where they were shouting at each other. 
"This is kind of how politics are in America, right?" said Giamalva. "You start talking politics, and depending which side of the aisle you find yourself on, you can find your anger level, your temperature level, it can escalate really, really quick."
The pastor said he is concerned about the polarization he sees in the U.S. surrounding politics. Because we cannot remain polite while disagreeing with one another, we are unable to have discussions about important topics such as racial inequality or how to handle the virus. The intensity of our emotions makes us unable to listen to or learn from those with whom we disagree. "We literally destroy bridges with people, with family members, because of this polarization," said Giamalva. "We literally reduce people, when it comes to politics, to evil."  
It's not really surprising, said the pastor, that people who do not believe in God would respond this way. If God does not exist, this world and its leaders are all we have. "But what if you're a Christian?" he asked. "What if you call yourself a Christ-follower? How should you behave?" Jesus answers this question in John 13:34-35, when he says, "A new command I give you: Love one another. As I have loved you, so you must love one another. By this everyone will know that you are my disciples, if you love one another."
"So as you think about yourself and how you've engaged politics," said Giamalva, "how do you think you're doing on this? Would people use, the way you talk about politics, would they say the defining characteristic of you is love?"
Following Cho's model in his book, Giamalva went on to expound on various "commandments" for engaging in politics in a Christ-like way. These include "Thou shalt engage in politics with proper perspective" and "Thou shalt not go to bed with one political party."
"What makes us think that we can take the God of the universe and reduce him to a political party?" asked the pastor.