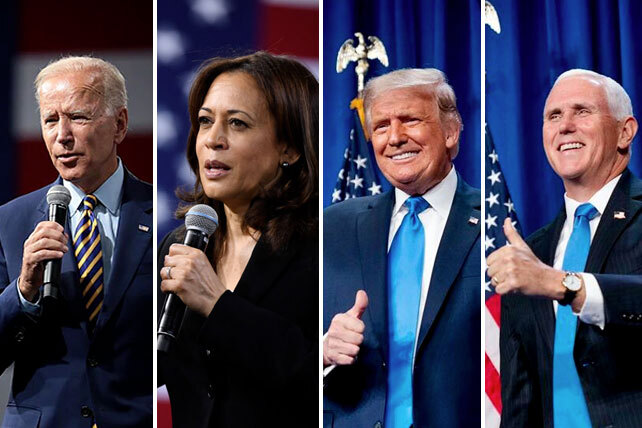 The year 2020—already one for the record books—makes history again on Tuesday, as American voters choose their next president. During the run-up to the November 3 election, candidates from both major political parties have been sharing their views on key issues such as the pandemic, the economy, health care, and race relations. The candidates' faith, its impact on their lives, and its role in America's future has also been featured in the campaign trail talking points.
Here's a snapshot of what the 2020 candidates say about their own faith, as well as how it impacts their political thinking and decision-making.
President Donald Trump
Republican incumbent Donald Trump, 74, says his parents "taught me the importance of faith and prayer from a young age." The president was confirmed as a Presbyterian in 1959 and has identified with that faith tradition until very recently, when he told Religion News Service (RNS) he now considers himself "a non-denominational Christian."
Trump and his wife, Melania, "have gotten to visit some amazing churches and meet with great faith leaders from around the world," he tells RNS. "During the unprecedented COVID-19 outbreak, I tuned into several virtual church services and know that millions of Americans did the same."
As president, Trump hasn't joined a congregation in the nation's capital, and his attendance at worship services has been sporadic. But the commander in chief has surrounded himself with evangelical advisers and receives high marks from pro-life advocates for his conservative judicial appointees. Trump supports Israel and has been a vocal proponent of religious liberties, calling churches "essential" amid coronavirus-related shutdowns.
During the 2016 campaign, Focus on the Family founder James Dobson referred to Trump as a "baby Christian" who "doesn't know our language." He also shared that Florida pastor Paula White had recently led Trump to "accept a relationship with Christ."
The president has sparked heated debate among Christians, partly due to his so-called "character flaws." While some people of faith say Trump is chosen, or anointed, by God, others accuse him of using churches and the Bible as photo ops.
When asked in 2016 who Jesus is to him, Trump said Jesus is "somebody I can think about for security and confidence. Somebody I can revere in terms of bravery and in terms of courage and, because I consider the Christian religion so important, somebody I can totally rely on in my own mind."
Presidential Candidate Joe Biden
 Democratic candidate and former Vice President Joe Biden, 77, is a lifelong Catholic who says the Church's social doctrine "taught me that faith without works is dead, and you will know us by what we do." In his memoir Promises to Keep, Biden describes the importance of religion in his family and community, crediting Catholic principles for his efforts to help poor and working-class people.
Biden regularly attends Mass with his wife, Jill. When referring to personal tragedies he's suffered, Biden calls his faith "an enormous sense of solace." Jesus' greatest commandments—loving God and loving other people—have guided Biden's political career, he says, adding that faith has "kept me grounded" and "been a guiding light for me."
While Trump claims a Biden presidency will "hurt God," the former VP says Trump "doesn't know what it means to live for or believe in something bigger than himself."