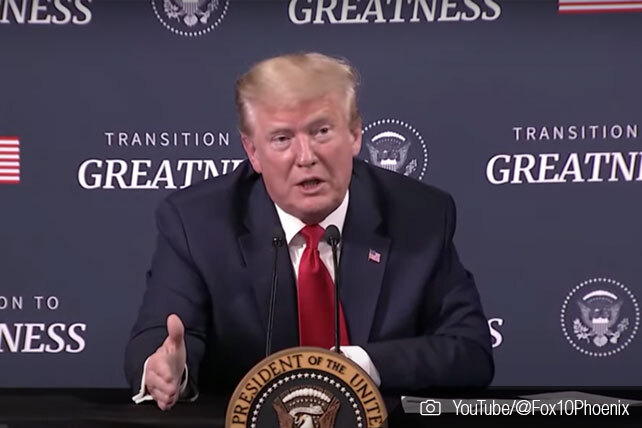 After high-profile delays and disputes, the Centers for Disease Control and Prevention (CDC) is expected to release a roadmap soon for reopening religious organizations during the coronavirus pandemic. Earlier this week, the CDC published guidelines for a variety of other institutions and programs, and administration officials said none would be issued for faith-based groups.
But during a visit to Michigan yesterday, President Trump indicated that plans had changed. "I said, 'You better put it out,' and they're doing it," he said of the CDC. "We got to get our churches open." Churches are "essential" and "so important to the psyche of our country," the president added.
Trump, who had hoped to have churches and the country back open by Easter, said on Thursday, "People want to be in their churches. It's wonderful to sit home and watch something on a laptop, but it can never be the same as being in a church or be with your friends and they want to have it open and I think that's going to be happening very shortly." The president also blamed "a lot of Democrat governors" for keeping churches closed and for not treating churches "with respect." 
CDC Guidelines for Churches Has Become a Political Football
Tensions between the White House and the CDC have escalated during the pandemic. Earlier this month, the White House shelved initial CDC guidelines, and reports emerged that the Trump administration feared they were too heavy-handed regarding churches. Instead, decisions about reopening places of worship were left to individual states, where legal battles about public health vs. religious liberties ensued.
According to administration officials, Trump—who's counting on his evangelical Christian base to win re-election in November—feared it wasn't proper to tell churches how to proceed. The CDC guidelines that got tabled were "more draconian and less optimistic" than desired, said one official. Recommendations apparently "tilted toward not opening places of worship" while allowing restaurants, schools, and other places to begin reopening.
CDC officials, meanwhile, say they've "been muzzled" by the Trump administration. "If you look at our guidance documents online, they have been watered down a lot," one tells CNN. "The message we received in previous administrations was, 'You guys are the scientists.' That's not the case this time. If the science that we are offering up contradicts a specific policy goal, then we are the problem."
What Churches Must Consider
The new CDC recommendations are expected to focus on social distancing, sanitizing buildings, and encouraging high-risk individuals to continue worshiping online. They'll also likely urge church-based children's programs to follow already-issued guidance for schools, daycares, and camps.
For all phases of reopening churches, the CDC recommends establishing and continuing "communication with local and state authorities to determine current mitigation levels in your community." It also says churches should "encourage use of a cloth face covering among adults at all gatherings and when in the building" but adds that not using a mask "may also be appropriate at times for some individuals who have trouble breathing or need assistance to remove their mask."
Other considerations include limiting the size of church gatherings and spacing out seating, which may require the addition of more services per week. Facilities should undergo regular deep cleanings and provide proper ventilation, hand sanitizer, and no-touch trash cans. The CDC also recommends that churches continue offering virtual and drive-thru services, as well as online counseling sessions and virtual visitations whenever possible.