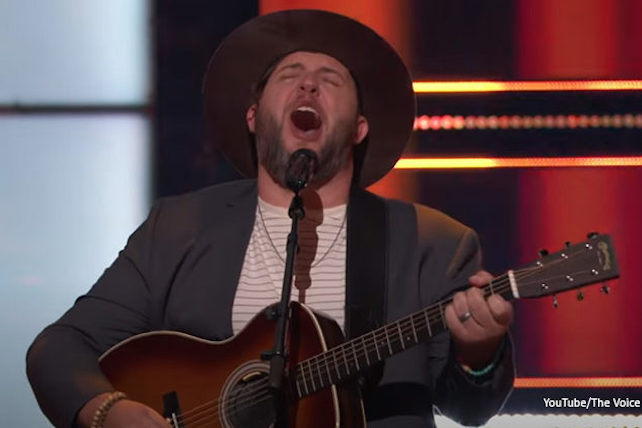 Jim Ranger is the campus pastor and worship leader for New Life Church's Southwest Campus in Bakersfield, California. The talented musician also received a three-chair-turn from the judges on the popular television talent show "The Voice."
John Legend was the first to turn his chair around during Ranger's blind audition, followed by Gwen Stefani, and Blake Shelton. Singing Keith Urban's "Blue Ain't Your Color," Ranger displayed vocals that reflected a powerful gospel-rock-country sound reminding one of Chris Stapleton or a "grungier" NEEDTOBREATHE.
Pastor Ranger chose Blake Shelton to be his coach. Last week Ranger competed in "The Voice Battles" round against fellow teammate John Sullivan performing Kane Brown's "Good as You." John Legend commented on the performance saying, "Jim your voice has more soul and grit to it…it made sense that you're a campus pastor and a worship leader (because) so much of being a minister is being able to control the room." Legend seemed to be letting Shelton know that he thought Ranger was the better performer. The rest of the judges agreed with Legend's assessment and Shelton chose Ranger to move on to the knockout rounds.
After the performance Ranger said, "I can't wait to call my wife and kids."
The pastor wrote in his "The Voice" bio that "He comes to 'The Voice' to prove to his kids that it is never too late to follow your dreams."
According to their website, New Life Church is currently holding in-person gatherings outdoors and enforcing social distancing and mask wearing, but earlier in the year when Pastor Ranger was preparing to audition for "The Voice," the church had only been gathering digitally. He commented on how the situation helped him prepare for the show's cameras: "I kind of had some preparation going. Starting back in mid-March we stopped doing our in person gatherings. You know, not being too bogged out or weirded out by cameras or trying to talk to somebody without having their immediate response. That's a really odd thing to do."
Jim's parents, James and Lydia Ranger, are the Lead Pastors at New Life Church. On the church's website it states that Pastor James is helping pioneer the mission of women in leadership. Jim shares his role as campus pastor with his wife Camilla.
Pastors advancing and even winning "The Voice" is nothing new, just last season Team Blake's Pastor Todd Tilghman was named champion of season 18.