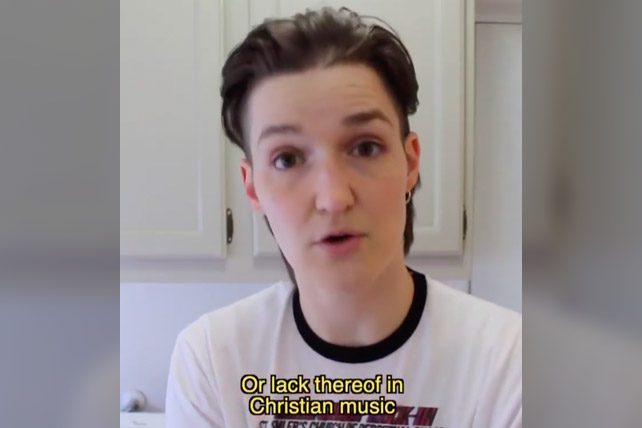 Openly queer artist Semler, the stage name of Grace Baldridge, claimed the number one spot on iTunes' Christian album chart for two days and counting this week. Baldridge's newly released "Preacher's Kid" knocked Lauren Daigle's album "Look Up Child" from the top of the chart, where it had held steady for the much of the past two years. 
"A Christian music exec told me to my face that there was no space for a story like mine in the industry, and I want to prove him wrong," said Baldridge shortly before her album moved to the number one spot on the Christian chart. The artist said she wanted to claim the top spot "for anyone who has ever been cast out in the name of God."
Y'ALL WE DID IT! AN OPENLY QUEER ARTIST IS SITTING AT #1 ON THE CHRISTIAN MUSIC CHARTS #PREACHERSKIDEP pic.twitter.com/gCSoLKL4lU

— Grace Semler Baldridge (@GraceBaldridge) February 9, 2021
Grace Baldridge Shakes Up the Christian Music Scene
"Preacher's Kid," which has a parental advisory for explicit lyrics, had dropped to second place, but is now back in the number one spot on iTunes' Christian album chart as of this writing [Note: links to the album and its lyrics contain content some may find offensive.] The album also currently holds the ninth spot in All Albums on iTunes, and was the fifth ranked album on that chart at one point.
Grace Baldridge wrote "Preacher's Kid" during quarantine and released it on Feb. 5. It has risen to the top of the iTunes charts in a few days with no radio play and no assistance from a label. Because Baldridge has achieved this success simply with the help of her followers, some have referred to the phenomenon as "GameStopping Christian music."
Baldridge has called "Preacher's Kid" a "project about coming out as a queer person of faith," but it could just as easily be described as a raw glimpse into her struggles with doubt, as well as a critique of Christian culture. "Bethlehem," the first track of "Preacher's Kid," plaintively expresses the pain that comes with doubting one's faith ("Oh, what I'd give for just an inch of your peace") and describes the brokenness the artist sees in Christianity. 
Oh the mission trips are scams they do more harm than good
We've got fame-hungry pastors making bank in Hollywood
and more confused than I've been
The artist wonders if she believes in Christianity just because she was raised to and says a savior who can't take her questioning is "small." She also voices her pain at Christians who reject her. 
I'm a child of God just in case you forgot
and you cast me out every single chance that you got
and that's your loss not mine
I'll be better than fine
you just missed your shot to meet the unholy divine
"Jesus from Texas," a nod to cultural Christianity, touches on similar themes. "These days I believe in Big Foot more than God, because who is he hurting?" the artist says, stating "Church is not a way to live / it's a weekly reunion." This song, as well as "Posture (Interlude)," also express the artist's sadness at the rejection of others.
In "Youth Group," Baldridge writes, "Youth group lock-ins are really strange concepts / That youth group leaders seem to really like." She says that youth leaders treat Jesus like a "ghost" teenagers will discover just by being at the church overnight. But Baldridge's experience is that the only thing teens discover during lock-ins is their sexuality. Youth groups "really tried it on us," she says and wonders, "Is there still a God I can trust? / If you're out there, I'm waiting.'"