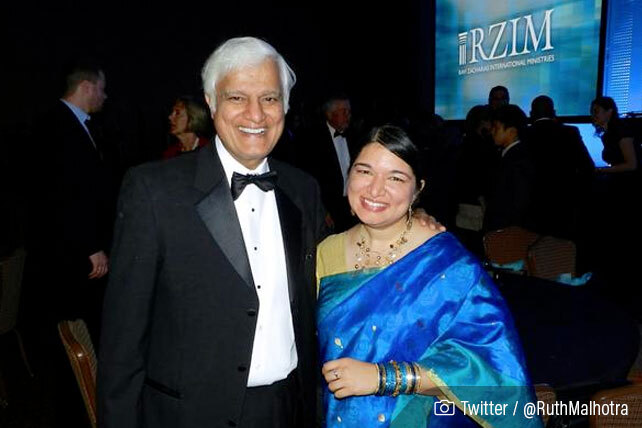 Following last week's devastating report about sexual misconduct by Ravi Zacharias, criticism is being directed toward board members of the late apologist's ministry. Although Atlanta-based Ravi Zacharias International Ministries (RZIM) eventually hired an independent law firm to investigate alleged abuse by its founder, senior leaders (including family members) and board members (who are anonymous) for years maintained his innocence.
RZIM's public relations manager Ruth Malhotra has shared a 26-page letter she wrote to the board chairman earlier this month. Journalist David French, a longtime friend of Malhotra's, reports on the missive, saying it reveals the "withering internal resistance" Malhotra and other concerned RZIM employees faced when they pursued answers about the unfolding scandal.
Ruth Malhotra: I Was 'marginalized' & 'maligned'
Back in 2017, when Lori Anne Thompson made sexting allegations against Zacharias, he countersued and eventually paid a financial settlement that involved a nondisclosure agreement. Both the RZIM board of directors and Zacharias' denomination, the Christian and Missionary Alliance, cleared the apologist of wrongdoing after conducting their own investigations.
Malhotra writes that she, as PR manager, and Nancy Gifford, RZIM's global media director, were stymied by board members when they tried to obtain information. In her letter, Malhotra describes feeling "systematically marginalized, maligned, and misrepresented to others by key members of senior leadership." She says RZIM President Michael Ramsden objected when she took notes at meetings, called her "tired and emotional," and said she couldn't "handle" the pressure of her role.
When Malhotra asked questions, she says, RZIM attorney Abdu Murray accused her of moving from "skeptical to cynical." Senior leaders, she says, told her she didn't know Zacharias as well as they did. Some urged her to "do the Matthew 18 thing," confronting first in private. Malhotra adds that RZIM senior VP Sanj Kalra asked, "Whose side are you on?" and blamed her for "plotting to bring the ministry down."
During a May 2018 conciliation, Malhotra says, senior leaders unloaded on her, and conciliator Judy Dabler said she was "one step away from complete and total insanity." That fall, Malhotra was forced to take a sabbatical and had to surrender her work-issued devices—although Zacharias was allowed to shield his from internal investigations. (Journalist French writes that if RZIM had confiscated Zacharias' old phones and "conducted even the most minimally competent investigation, they could have discovered—and potentially stopped—almost four years of additional misconduct and abuse.")
Defense of Zacharias Persisted, Says Ruth Malhotra
In September 2020, six months after Zacharias died, news broke of another scandal, this one involving massage therapists at day spas he co-owned. RZIM senior leaders, Malhotra says, continued to maintain that allegations were false and even debated investigating the accusers' pasts. CEO Sarah Davis, Zacharias' daughter, reportedly expressed confidence to RZIM staff members that accusations weren't true. And in October, president Ramsden reportedly told staffers the claims "would be legally classified as double hearsay."
By the end of October, as internal dissent escalated, RZIM leaders finally authorized an independent investigation. In late December, initial findings mentioned "significant, credible evidence" of sexual misconduct, calling some "more serious" than what had yet been reported. And last week's full report detailed multiple encounters that included sexting, grooming, unwanted touching, spiritual abuse, and in one case, rape.
In a statement about those findings, the RZIM board describes having "shattered hearts" and being "devastated." The board issued an apology to victims, hired Guidepost Solutions to evaluate the ministry, and retained victim advocate Rachael Denhollander as an adviser and liaison.
On February 12, in a series of tweets about the report, Denhollander addresses Christian leaders who are now praising RZIM's actions: "You applaud the independent investigation, but never pressed for it when it needed to be done," she writes. "When your voice was desperately needed in 2017 and all the years that followed, you were silent. You left the victims alone, your silence a deafening testament that you did not care. You praise accountability but as far as I can see, have never ONCE demanded it of anyone you labor alongside."