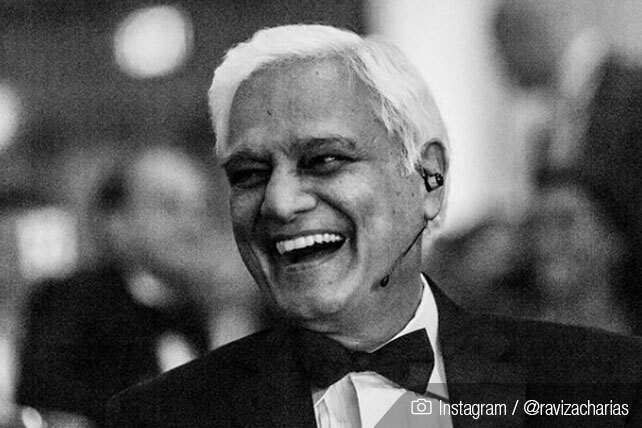 Editor's Note: After the publishing of this article, an independent investigation found allegations implicating Ravi Zacharias of sexual abuse to be credible. Prior to this report, ChurchLeaders had published multiple articles about Ravi Zacharias and his ministry. Although our editorial team believes his work still has value since it involved articulating the truths of God's Word, we would be remiss not to disclose the painful truth of Mr. Zacharias' personal actions that have come to light following his death. For further reading, please see:
Sexting, Spiritual Abuse, Rape: Devastating Full Report on Ravi Zacharias Released
The Story Behind the Ravi Zacharias Allegations (Part 1): Lawsuits, NDAs, and Email Threads
The Story Behind the Ravi Zacharias Allegations (Part 2): 'Cursory' Investigations and More Accusations
---
This morning at Passion City Church in Atlanta, Georgia, friends and family gathered to celebrate and remember Ravi Zacharias, who passed away from cancer on May 19 at age 74. Zacharias was a Christian speaker and apologist known for communicating with compassion and grace, yet his legacy among those closest to him was perhaps put best by his daughter, Naomi Zacharias. 
"For me, he was the man who loved me," she said. "He was the man who always loved me." 
Ravi Zacharias: The Man Who Loved People
Zacharias's memorial service lasted two hours and featured performances by Shane & Shane, Lecrae, and Matt Redman, as well as videos highlighting the apologist's legacy of defending the faith. Among those who shared tributes to Zacharias were Vice President Mike Pence and former football quarterback Tim Tebow, in addition to other members of the apologist's family. There were also several scripture readings, including a reading of Psalm 37:1-9 by Zacharias's daughter, Sarah Davis. 
Time and again, those who stood up to share their memories of Ravi Zacharias described their deep respect for him and the way he cared for everyone around him, whether they were his family members, his colleagues, or complete strangers. 
Naomi Zacharias said she was inhibited by the "limits of language" to describe everything her father meant to her, but she focused on his devotion to her mother, Margie, and to his children and grandchildren. He deeply loved his wife, but he also admired her, and she supported him in his calling. When his children, Sarah, Naomi, and Nathan were growing up, instead of telling them they could be whatever they wanted to be, Zacharias identified and championed their strengths. He was also a "doting grandfather" to his grandchildren and would often look at them and say, "I love you little boy. I love you little girl." 
Zacharias had the ability to make anyone he encountered feel valued. "If you were in front of him, he saw you," said Naomi. A friend wrote that the apologist could dine with kings, and he could make a taxi driver feel like a king. "And he was funny," said Naomi. "Like, really funny." But more than anything else, "He was the man who loved us."
Zacharias's grandson, Jude McNeil, agreed: "We just lost the best grandfather in the world…there's not even a word for how amazing he was."
"I am a witness to Ravi's life and to his character," said Zacharias's sister-in-law, Barbara Reynolds. "You can't spend that much time together without seeing the character of a person. And I want you to know that the way Ravi lived out his faith is the greatest reflection of Jesus that I have ever known." 
The speaker's brother, Ramesh, described Zacharias as "an amazing brother," his "hero," and "incredibly committed to God." One time, Zacharias preached for several hours, and then after he got home, got down on his knees and prayed for the people he had just preached to before he went to bed. "He told them he was going to pray for them," said Ramesh, "and he did." 
Vince Vitale, Director of the Zacharias Institute, said Zacharias "had this tenacious, Christ-like desire for the one." One time when the apologist was speaking, a man in the audience got angry and stormed out. Instead of being glad that the man was leaving or responding in anger as well, Zacharias pleaded with the man not to go, saying he wanted to answer his questions. Michael Ramsden, president of Ravi Zacharias International Ministries (RZIM), described the personal care Zacharias took with the people on his team and said that he was more a father of the faith than he was a theologian.
RZIM speaker, Sanj Kalra, said speaking at the memorial service was "the greatest honor of my life." Kalra discovered Zacharias's lectures shortly after becoming a Christian, and listening to them gave him the courage to tell his parents about his new-found faith. Kalra convinced his parents to come with him to hear apologist speak live, and the three were later invited back to meet him. As a result of that meeting, Zacharias led Kalra's mother to trust in Jesus that very night. 
Kalra and Zacharias started speaking together, and the apologist eventually asked Kalra to join him in full-time ministry. The two ended up becoming close friends. Zacharias said that Kalra was "like a Jonathan to him," something Kalra said was his "deepest honor." 
Vice President Mike Pence offered his sympathies on behalf of the administration and his own family, saying that Zacharias was a "godly man" and a "friend" and that his legacy paralleled those of Billy Graham and C.S. Lewis. The vice president and Zacharias had their last conversation from the apologist's hospital bed and Pence observed that "Ravi was more concerned for the people who are struggling in the midst of this pandemic than he was for himself."
"Well done, good and faithful servant," said the vice president. "Thank you, Ravi. And until we meet again, may God hold you in the palm of his hand."
Others described how Zacharias helped them wrestle with challenging worldview questions. Tim Tebow explained the apologist made it easier for him to express his faith in his own words and said he was "so starstruck" when he first met Zacharias. The former quarterback saw the speaker as his brother, mentor, teacher, pastor, friend, and even hero. There is no one else he has called his hero, said Tebow, apart from his own father. 
Before performing his song, "Tell the World," Lecrae pointed out how strange it is that a kid from hip hop culture would befriend a scholar from Delhi, India. The rapper was an atheist before he converted to Christianity as an adult, and he discovered the apologist while trying to answer his friends' questions about faith. "Because of him, I now have these answers to hard questions," said Lecrae. "I just want to honor this man for the legacy that he's left in communities from all over the world."
Others who shared at the memorial service included Jim Cymbala, pastor of the Brooklyn Tabernacle, and Louie Giglio, the pastor of Passion City Church, who ended his comments with an invitation for those watching to trust in and follow Jesus. It is Jesus who gives us life beyond death, and he is the reason why those mourning Zacharias's passing can look forward to being reunited with their loved one again. 
"Ravi is not dead," said Giglio. "Ravi is very much alive today. Ravi is home. Ravi is healed. Ravi has finished his race. And Ravi is free."