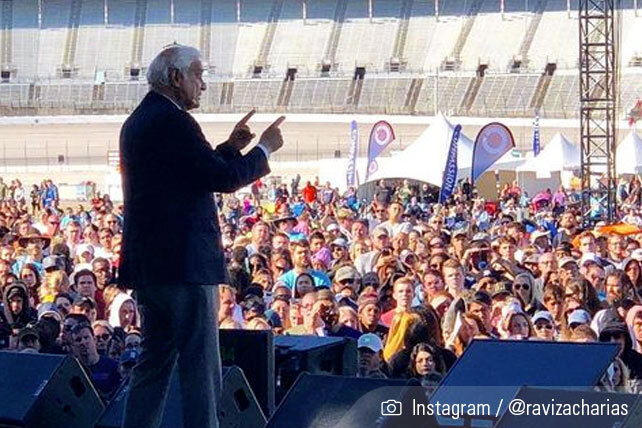 Now that a preliminary report has confirmed sexual misconduct by the late Christian apologist Ravi Zacharias, some organizations and people connected to his ministry are cutting ties and demanding change. Independent investigators recently concluded that "significant, credible evidence" exists of misconduct by Zacharias, including some behavior even "more serious" than what's been disclosed so far. The backstory involves years of allegations and denials, which ChurchLeaders has covered extensively.
The latest scandal came to light in September, months after Zacharias' death, when Christianity Today revealed that three massage therapists at spas co-owned by the apologist say he solicited them for sex. Zacharias' Atlanta-based organization, Ravi Zacharias International Ministries (RZIM), hired a law firm to investigate the charges and shared its interim findings on December 23.
In a statement, the executive committee of the RZIM board of directors calls the findings "deeply troubling" and requests prayers for victims as well as the Zacharias family. The complete report is expected by February, though it's unclear whether investigators will address a previous scandal. In 2017, Zacharias privately settled with Lori Anne Thompson, who accused him of sexual harassment and "predatory" behavior. RZIM leadership has previously stood by its founder, who denied any impropriety and accused Thompson of extortion.
Broadcasters, Booksellers Cutting Ties with RZIM
Soon after the interim findings were released, radio networks and retailers began distancing themselves from Zacharias. On December 28, Moody Radio replaced RZIM's weekly program "Let My People Think" and its daily program "Just Thinking" with other Christian content. The broadcasting powerhouse, according to vice president Doug Hastings, "prayerfully considers who we partner with, and as a ministry founded upon the Word of God, we firmly believe that those in positions of leadership and teaching Scripture must be above reproach."
Several other networks also quickly canceled RZIM broadcasts, including American Family Radio, WIHS Christian Radio in Connecticut, and Bible Broadcasting Network in North Carolina. Zacharias' "contributor" page has apparently been removed from Focus on the Family's website, which posted news of the misconduct findings on its "Daily Citizen" page.
The Associated Press reports that some booksellers have pulled Zacharias' material from their shelves. And in Britain, a student-led mission network has requested that any speakers affiliated with RZIM withdraw from future events. The Zacharias Trust, RZIM's British affiliate, is urging U.S. leaders to offer a "profound apology" to victims and to "reform radically the governance, leadership, and accountability" of the organization.
Individual Apologists Take RZIM to Task
Demands for change also are coming from some employees of Zacharias' ministries. On December 9, Max Baker-Hytch, a senior tutor with RZIM's Oxford Centre for Christian Apologetics in Britain, sent a five-page letter to RZIM's U.S. leaders, including CEO Sarah Davis, Zacharias' eldest daughter. In it, he takes issue with how leaders handled multiple points of controversy, writing that the board's "continued secrecy" with employees and the public has "irreparably damaged" its credibility. Restoration, says Baker-Hytch, requires steps such as releasing IRS forms and naming a new global board of directors and CEO—"none of whom are Zacharias family members."
Carson Weitnauer, an online-outreach specialist for RZIM's Zacharias Institute, also has been vocal about the board's "failure to provide accountability to Ravi Zacharias for more than a decade." In a blog posted after interim findings were released, Weitnauer faulted the board for—among other things—remaining anonymous, not "admitting complicity," not mentioning Thompson's case, and using "spiritual language that distracts us from noticing their responsibilities."
About the news of Zacharias' wrongdoing, Weitnauer describes feeling "catastrophic betrayal" and "a sickening combination of revulsion and grief." In response to the preliminary report, he says, "RZIM must change its name, remove Ravi's material, repent for its many failures, and provide a restorative response to the harm that Ravi's victims experienced."
Carson Weitnauer Pens Apology, Seeks Restoration
Weitnauer, an RZIM employee for seven years, also sent an apology letter to Brad and Lori Anne Thompson, later publishing it on his blog with their permission. To the couple whom Zacharias had accused of extortion, Weitnauer admits "my shameful complicity in honoring Ravi, dishonoring you, and protecting myself." He asks their forgiveness "for my failure to seek the truth, show you proper respect, and advocate for justice."