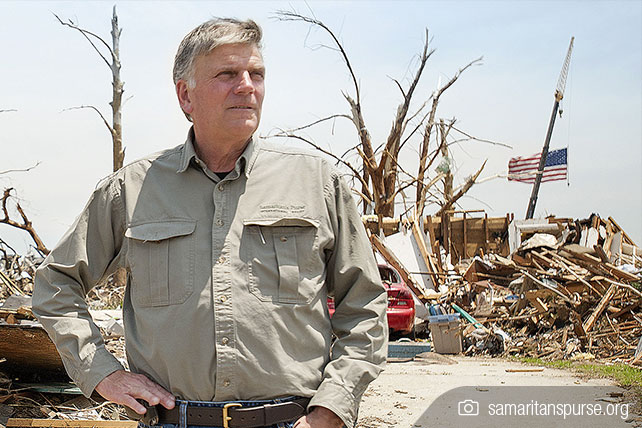 The United States has never been a Christian nation, says Rev. Franklin Graham. In fact, Graham believes the moral decline he currently sees in the U.S. highlights the need for believers everywhere to refuse to compromise on the teachings of Scripture.
"Our country is not a Christian country, never has been," said Franklin Graham in an interview with ChurchLeaders. "We have some Christian principles, but we're not a Christian country." He went on to say, "I just think for us as Christians, we've got a very difficult few years in front of us. We'll lose a lot of our freedoms, and I'm not sure we'll get them back in our lifetime." 
Franklin Graham, son of evangelist Billy Graham, is the president and CEO of Samaritan's Purse and the president and CEO of the Billy Graham Evangelistic Association (BGEA). He appeared on the recent ChurchLeaders podcast series on Christian nationalism, where he shared his thoughts on the Jan. 6 violence at the U.S. Capitol and emphasized the importance of American believers holding fast to God's Word. So is Christian nationalism something Christians need to be concerned about? And how does that relate to patriotism? Find out what Graham said about these questions by listening to the interview below.
Franklin Graham: We Need to Stand Against Moral Decline
Christian nationalism has become a hot topic in evangelical circles, particularly in the aftermath of the riots that occurred at the U.S. Capitol at the beginning of the year. In addition to the troubling merging of Christian and political imagery seen at the protests that were held on Jan. 6, many deplored the use of Christian symbols and practices during the violence that took place that day. 
Graham told ChurchLeaders that he did not believe that the people who broke into the Capitol were true Christians. "I think the million plus people that showed up in Washington [on Jan. 6] were concerned citizens and were concerned that the election was fraudulent. Whether it was or not, history will tell us. But they certainly had concerns about it." He continued, "Were there Christians down at the White House listening to Trump's speech? Yes. But those that went into the Capitol, I just think that was a different group of people."
When it comes to the U.S. government, as well as governments around the world, Graham said,
Governments come and go, just like we have presidents in this country that come and go. But I'm still going to support our Constitution, I'm still going to support our government. And churches in Russia are going to support their government, churches in France are going to support their government, churches in Germany are going to support their government…but at the same time, we want to be good citizens in this world, regardless of what nation we belong to.
Graham has been an outspoken supporter of former President Donald Trump, whom he called "the most pro-life president we've ever had." When the House of Representatives voted on whether or not to impeach Trump for inciting the violence at the Capitol, Graham drew a comparison between the 10 Republicans who voted in favor of impeachment and Judas's betrayal of Jesus. 
However, Graham told ChurchLeaders, "Not everything that [President Trump] did was right. He certainly made some mistakes." Graham believes "You have to look at [Trump's] policies. You can't look at his personality…over the last four years, he did what he said he was going to do." 
Graham appears to view Trump as someone who has helped to forestall the U.S.'s moral decline, and he warned listeners against compromising on "moral issues," something he sees many churches doing. "I think there are a number of churches that have caved in on some moral issues," said Graham. "Homosexuality is not a political issue; it's a moral issue. Abortion is not a political issue; it's a moral issue. And I think for us as Christians, we need to stand on moral issues."
And the way we stand against moral decline is by knowing Scripture and by doing what it says. Said Graham, "There's a lot of evil in our country today, and that's why it's so important for us as Christians to stand for the Word of God and not compromise on God's Word."