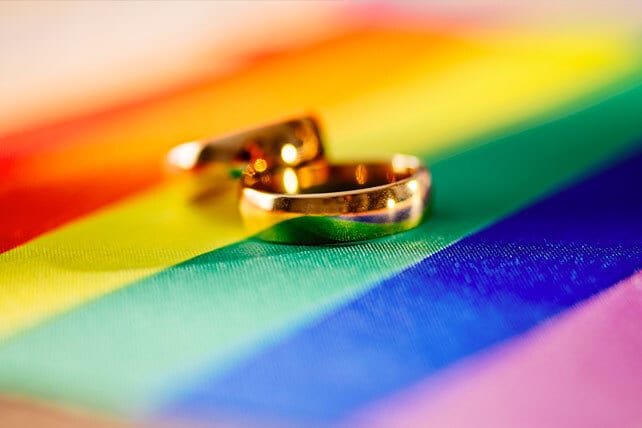 A wedding venue in North Carolina has turned down a gay couple who requested to use the venue for their upcoming wedding. Highgrove Estate said its decision was based on its Christian beliefs, specifically the conviction that marriage is between a man and a woman. 
"Highgrove has always welcomed vendors, guests and employees of all orientations and we do not discriminate against a people or group," said the venue owners in a statement. "We believe in the sanctity of marriage as God says in the Bible that marriage is between a man and a woman and we choose to honor Him above what the world decides what marriage should be."
RELATED: Juli Slattery: This Is How the Church Can Begin the LGBTQ Conversation
Highgrove Estate Receives Criticism—and a Threat
Highgrove Estate, located in Fuquay-Varina, N.C., was one of several wedding venues that McCae Henderson and Ike Edwards looked at as they considered locations for their upcoming marriage ceremony. When Highgrove's intake form only had spaces for "bride" and "groom," they explained they were "groom and groom" in the notes section of the form.
The couple later received a response from a venue employee, saying, "[O]ur owner has unfortunately chosen not to participate in same-sex weddings at this time. However, she wants to ensure that you still have the best wedding day experience possible, and has given me a list of several other wonderful venues in the area that may interest you." Henderson and Edwards were taken aback by this response, which Henderson called "disheartening" and said, "To see that in 2021 was very surprising to us because we haven't faced anything like that." He said: 
This is us. We are gay and we did not choose to be gay. The fact that we don't have access to things other people do is discrimination in my eyes. I think everyone has the right to believe what they want to believe to an extent. I don't think you get to be racist because your religion tells you to be racist. I don't think you get to be homophobic because your religion tells you to be homophobic.
Highgrove Estate defended its decision, saying,
We have been respectful and kind when letting them know we are not the best fit for them. When magazines and others chose not to do business with us because of this position, we respected that decision. That is their right. We do not judge them or retaliate because they chose to not respect our religious beliefs. The argument can just as easily be the same for us as we're being made to feel like the other. We are not the ones attacking, slandering and threatening others for their beliefs.
RELATED: Gregory Coles: It's Possible to Be Same-Sex Attracted and Fully Surrendered to Jesus
Highgrove Estate has disabled its Facebook page because of negative comments, and the venue has even received a threat, which has been reported to police. Highgrove has also had one couple request to cancel their contract, a request the venue granted. Henderson and Edwards say they oppose any threats or attacks against the company, but they do see speaking out about their experience as a chance to "push the needle towards eliminating discrimination in private businesses all across the board." 
The state of North Carolina currently prohibits businesses from discriminating based on qualities that include race, sex, and religious belief, but does not specify protection from discrimination based on sexual orientation or gender identity. 
The Equality Act, which has been passed by the U.S. House of Representatives but seems unlikely to pass the Senate, seeks to add protections against discrimination based on sexual orientation and gender identity. Many Christian leaders, however, argue that the act would severely harm religious freedom. 

Highgrove Estate Is Reminiscent of Jack Phillips
Highgrove Estate's response to Henderson and Edwards will likely remind many of Colorado baker Jack Phillips, who refused to bake a wedding cake for a same-sex wedding. The U.S. Supreme Court sided with Phillips in June 2018, but he soon faced another lawsuit. This time, it was over his refusal to bake a cake for Autumn Scardina, a transgender woman who wanted to celebrate the seven-year anniversary of her gender transition. That case, brought by the Colorado Civil Rights Commission, was dropped in March 2019. However, Phillips is once more dealing with legal troubles as Scardina decided to sue him herself in March 2021.