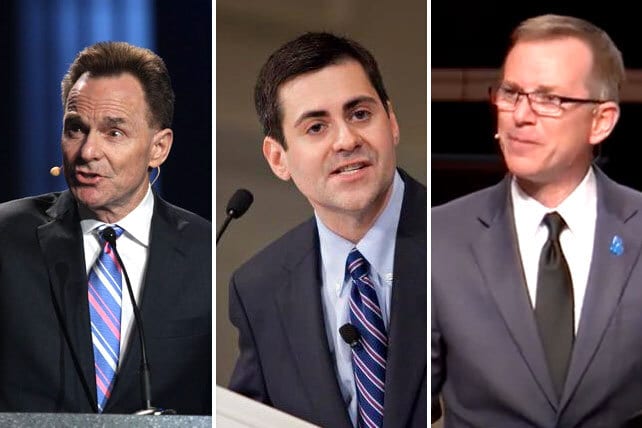 A second incriminating letter written by Dr. Russell Moore has been leaked. Dated May 31, 2021, Moore's letter is directed to Southern Baptist Convention (SBC) president J.D. Greear. It implicates SBC Executive Committee (EC) president and CEO Dr. Ronnie Floyd and SBC presidential hopeful Mike Stone in suppressing investigations into sexual abuse within the denomination. 
"As a victim of childhood sexual abuse, I find the latest attack from Russell Moore to be absolutely slanderous, and it is as inflammatory as it is inaccurate," said Mike Stone in a video response posted to Twitter on June 5. Stone, who is the pastor of Emmanuel Baptist Church in Blackshear, Ga., rejected Moore's claims in the strongest possible terms, calling the letter "fallacious" and "laughable." For these accusations to come to light in such a way, said Stone, "Is scandalous, it's unscriptural, it's ungodly, it's outrageous."
The Washington Post, however, says it has corroborated some of Moore's statements, and several of the people who responded to Stone on Twitter believe that he failed to address some of the letter's key points. 
Dr. Russell Moore on the EC and the SBC's Crisis 
Until recently, Dr. Russell Moore was the president of the SBC's Ethics & Religious Liberty Commission (ERLC). On May 19, Moore announced he was leaving the ERLC to join Christianity Today (CT) as the magazine's public theologian and director of its Public Theology Project. Moore has also personally left the SBC denomination. 
The first leaked letter of Moore's was disclosed by an ERLC trustee on May 29. It revealed that Moore's decisions stemmed from members of the EC using what Moore called "vicious guerilla tactics" against him due to his attempts to address racism and sexual abuse within the SBC. Moore sent the letter to ERLC trustees in February 2020 shortly after a task force was formed to investigate the ERLC in order to determine if Moore's leadership had impacted giving from SBC members. Mike Stone, who at the time was the EC's chairman, headed the task force conducting the investigation.
Stone formally presented the report to the EC at a meeting in February 2021. The task force had concluded the ERLC was a "significant distraction from the Great Commission work of Southern Baptists" and was responsible for losing more than a million dollars in constituent church donations. While the task force did not call for Moore to resign, it did advise the ERLC to refrain from political statements (Moore has been an outspoken critic of former President Donald Trump). 
In the second leaked letter, which was written last week, Moore told Greear, "As I prepare to transition to my new role of ministry, I feel conscience-bound to put down in print for you what you and I have previously discussed—a matter that, in my opinion, is now a crisis for the Southern Baptist Convention…I refer specially to the crisis of sexual abuse as it relates to the SBC Executive Committee." In the letter, Moore referred to the EC's February 2021 meeting as an "unquestionable debacle" that included "an absurd and widely ridiculed 'task force' report on the entity I serve."
He went on to describe "constant backroom attempts to stop any forward momentum" that could have been generated by his and Greear's attempts over the past several years to address allegations of sexual abuse within the SBC. EC members maligned sexual abuse survivors and dismissed and downplayed survivor experiences, said Moore, who claims that he and Greear encountered "undiluted rage" from members of the EC, including Mike Stone. The former ERLC president said there was a meeting at which "Stone vigorously insisted on delaying the formation of a credentials committee to assess churches reported to be mishandling sexual abuse."  
Moore also referred to what he called a "defining moment" when he allowed attorney and victims advocate Rachael Denhollander to speak at the SBC's 2019 Caring Well Conference, where she described the "bullying and intimidation" sexual abuse survivor Jennifer Lyell had experienced when Lyell went to EC members with her story.
Allowing Denhollander to do this, said Moore, "enraged certain leaders of the Executive Committee." He said that Ronnie Floyd told Moore and Philip Betancourt (who was on the ERLC team), "You're going to have to help me out here." Said Moore, "Ronnie's posture was as one who was himself under fire, but told us that his trustees were not at all happy."
Moore also mentioned in his lengthy letter that he challenged Floyd on the framing of former EC president Frank Page's resignation. The EC said that the reason for Page's resignation was a "morally inappropriate relationship." Moore said he asked Floyd if the EC were going to make a less vague announcement and address whether Page had abused his spiritual authority. "I was told that they would not," said Moore. Notably, Page investigated Moore back in 2017.