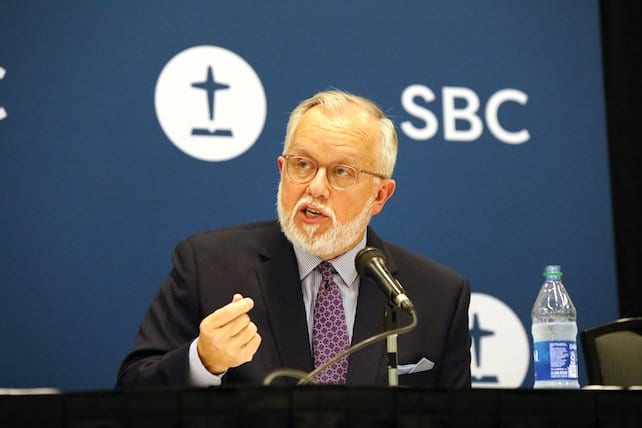 In an interview with CNN's Erin Burnett, newly elected Southern Baptist Convention (SBC) president Ed Litton said that the SBC has neither subscribed to nor condoned critical race theory (CRT). Litton also called the existence of systemic racism—which CRT attempts to address—"obvious." 
"We've never condoned critical race theory," said Ed Litton, in response to Burnett's repeated statements that the SBC has accepted the ideology. "We believe in gospel reconciliation."
Ed Litton: We Need a Better Conversation 
Burnett started her interview by referencing a quote from Pastor Mike Stone. Stone was one of Ed Litton's competitors in the SBC presidential race, the victor of which was determined at the 2021 SBC Annual Meeting. Ahead of the meeting, Stone supported and promoted a resolution declaring that CRT and intersectionality (I) were incompatible with the Baptist Faith & Message. Burnett quoted Stone saying, "Our Lord isn't woke," in warning against such secular ideologies, and she asked Litton for his thoughts on SBC members who believe the denomination is "drifting too far to the left." 
Litton rejected the idea that the SBC was "drifting left," as well the label "moderate." Media headlines have framed the SBC as avoiding a "push from the right" by not electing Stone. Said Litton, "I'm very conservative in my faith, my theology…in my politics." Regarding accusations that some SBC factions are too "woke," Litton said, "The reality is we're facing real cultural needs in the cities that we are pastoring and trying to minister to people's desires, heart's desires, and needs, and especially their need for the gospel and to know the love of Jesus Christ."
Litton clarified that the SBC has never endorsed or adopted CRT. "We've been very clear repeatedly that it's a philosophy, it's a worldview, it's a way of seeing things in the culture we live in," he said, "but we do not adopt it. We may teach it in our seminaries only to help pastors understand that it's a mechanism used in our culture." 
It is not clear why Burnett believes the SBC had subscribed to CRT outright. Certainly, the ideology has been hotly debated within the SBC over the past several years. Resolution 9, passed during the convention's 2019 annual meeting, affirmed CRT and intersectionality in a limited way, stating, "they alone are insufficient to diagnose and redress the root causes of the social ills that they identify, which result from sin, yet these analytical tools can aid in evaluating a variety of human experiences."
Several resolutions related to CRT, including the one Stone supported, were put forth at this week's meeting. Religion News Service (RNS) reports that about 25% of 40 resolutions put forth were related to CRT in some way. However, the only one adopted was Resolution 2, "On the Sufficiency of Scripture for Race and Racial Reconciliation," which did not mention CRT.
The Resolutions Committee of #SBC21 rejected the efforts of over 1300 Southern Baptists to express our concerns that CRT/I is incompatible with the BFM. Disappointing. Pray that messengers will be allowed to consider this resolution as submitted. https://t.co/XfuVpuLmMA

— "Not marquee" Tom @tomascol (@tomascol) June 15, 2021
In her interview, Burnett continued to press Litton on his views on systemic racism, "wokeness," and how he responds to the disagreements among SBC leaders on these topics. "We need a better conservation about this," said Litton. "There are people who are afraid of dealing with this issue, and it's basically recognizing that people of color in our communities are created in the image of God, they have value because God not only loves them, he redeems them, and God wants them in his family."
In a tweet about the interview, CNN interpreted Litton to be referring to CRT when he said "this issue." However, it was not clear from the exchange whether Litton was talking about CRT, systemic racism, or something else. 
"There are people… afraid of dealing with this issue," says incoming Southern Baptist Convention President Pastor Ed Litton on critical race theory.

"It's basically recognizing that people of color in our communities are created in the image of God." pic.twitter.com/85RAhxhL9c

— OutFrontCNN (@OutFrontCNN) June 17, 2021
At a press conference following his election, Litton said, "CRT is a reality in our culture, and I think people are afraid. I don't think they need to be afraid within the SBC. It is not taught. It is not believed among our seminaries. No one is endorsing it." But because it is a reality in our culture, Litton said, "We need to understand it. We need to seek to help find justice….We have a higher tool [that] is the Gospel."