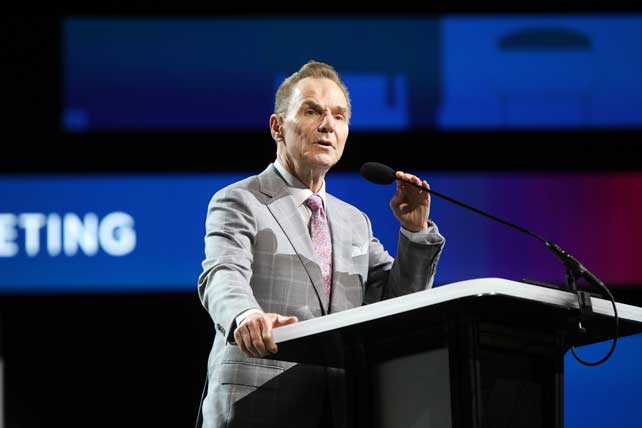 NASHVILLE, Tenn. (RNS) — In the fall of 2020, Ronnie Floyd, president of the Southern Baptist Convention's Executive Committee, wrote an essay describing the leadership structure of the nation's largest Protestant denomination.
In the essay, he cited a cherished ideal held by Southern Baptist pastors: "The local church is the headquarters of our Southern Baptist Convention."
"If we ever invert this order in our mindset and practice, then we will begin a downhill slide that may become irreversible," wrote Floyd, whose agency oversees the work of the convention between the SBC's annual meetings.
"Churches operate under the Lordship of Jesus Christ, not under Baptist bodies who exist to assist these churches in their work of the Great Commission."
Now, an investigation into the Executive Committee's handling of sexual abuse claims over the past two decades may test Floyd's commitment to that ideal.
Over the past two years, the SBC has been rocked by a sex abuse scandal, following an investigation by the Houston Chronicle that detailed hundreds of abuse cases in Southern Baptist churches. That led SBC leaders to hold a service of lament and to launch a new denominational program to care for abuse survivors. The denomination also set up a system to cut loose any church that had covered up or mishandled abuse.
Earlier this year, the SBC Executive Committee ousted a pair of churches that employed pastors who had been abusers.
But abuse advocates claimed that SBC leaders themselves had to answer for mistreatment of abuse survivors and how they mishandled claims of abuse. Those claims were repeated in letters from former Baptist ethicist Russell Moore, which became public after his departure from the SBC's Ethics and Religious Liberty Commission.
Local church delegates — known as messengers — to the SBC's annual meeting in Nashville, Tennessee, in June rejected plans by the Executive Committee to hire an outside firm to review its handling of abuse claims and treatment of abuse survivors.
Instead, the messengers instructed SBC newly elected President Ed Litton, an Alabama pastor who holds a mostly ceremonial role, to appoint a task force to oversee an independent investigation of the Executive Committee. That committee, according to a motion approved by the messengers, is responsible for hiring an outside firm for the investigation and setting the boundaries of the investigation.
The task force was also directed to agree to follow best practices suggested by the outside firm they hired, "including but not limited to the Executive Committee staff and members waiving attorney client privilege in order to ensure full access to information and accuracy in the review."
On Thursday (Sept. 9), the task force announced it had completed the first part of its mandate by hiring Guidepost Solutions, an international consulting firm, to carry out the investigation and waived its attorney-client privilege in all communications with Guidepost or the Executive Committee, according to a letter of agreement between the task force and Guidepost.
But in public statements and written communication to Executive Committee members, Floyd has not committed to waiving the committee's attorney-client privilege in its contacts with Guidepost. Floyd also raised questions about whether doing so would violate SBC bylaws.