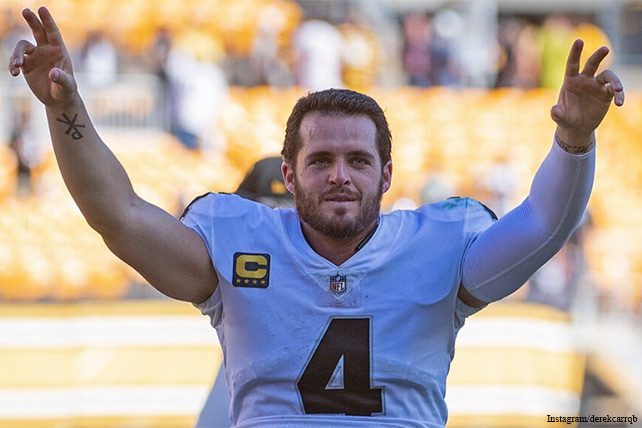 It's no secret that Las Vegas Raiders quarterback Derek Carr isn't ashamed of sharing his faith in Jesus Christ when given the opportunity. That was no different when he was interviewed directly following the Raiders overtime win against the Miami Dolphins this past Sunday.
For the first time since 2002, the Raiders are 3-0. Carr has thrown for over 1,200 yards with six touchdowns and only two interceptions in those games. He helped lead his team back from a 14-point deficit on Sunday afternoon.
Self-Glory Is Fleeting
Carr told CBS' sideline reporter Evan Washburn that focusing on the pressure of having an MVP season is all "self-glory" and "that stuff is fleeting." While Carr admitted that he didn't always feel this way, he said, "God took me to a place that all I want to do is glorify him and wherever He's going, that's where I want to go."
Related article: Derek Carr Shares About a Time He Prevented 3 Suicides by Obeying the Holy Spirit
Carr went on to say, "If it's a win, awesome. If it's not, I'm still going to glorify him."
"We still haven't played our best football. I think that's a frustrating thing and an exciting thing."

Derek Carr talks with @EvanWashburn after the @Raiders win in OT. pic.twitter.com/8utfLps2HU

— NFL on CBS 🏈 (@NFLonCBS) September 27, 2021
Carr and some of his teammates could be seen kneeling in the middle of the field after the game, but instead of being what has become a common symbol of protest in the NFL, this time it was for prayer.