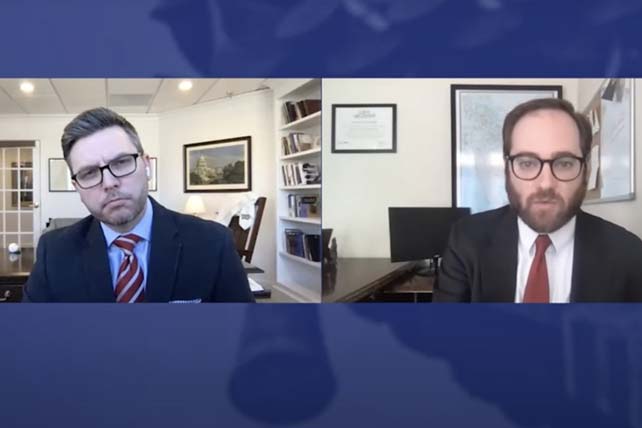 NASHVILLE (BP) – The United States and NBC must counter the falsehoods of the Chinese Communist Party during the 2022 Winter Olympics that open this week in Beijing, participants in a Southern Baptist-sponsored webinar were told Tuesday (Feb. 1).
Panelists convened by the Ethics & Religious Liberty Commission (ERLC) addressed on the eve of the Olympics the human rights violations by the Chinese Communist Party (CCP) against the Uyghur people and how Christians and others should respond. Some Olympic events began today (Feb. 2), but the opening ceremonies are scheduled Feb. 4.
In recent years, the CCP's campaign against the Uyghurs, a primarily Muslim group in western China, has included not only forced labor but widespread detention in "re-education" camps and a coercive, population control program of abortion and sterilization. Both the Trump and Biden administrations have designated China's assault on the Uyghurs as genocide, and the Southern Baptist Convention became the first Christian faith group to denounce it as genocide by vote of the messengers to its annual meeting in June 2021.
Asian expert Michael Sobolik told the online audience China will use ethnic minorities performing in the opening ceremonies "to push a lie – that China is unified, that everyone loves political life under the Chinese Communist Party, and there's nothing to see here."
It is important for NBC, which is televising the Olympics, and the U.S. government to tell the truth, said Sobolik, a fellow in Indo-Pacific studies at the American Foreign Policy Council.
RELATED: Voice of the Martyrs Calls for a 'Prayer Boycott' of the 2022 Winter Olympics
The American government needs to be "pushing the truth," he said. "You need to be the one telling the truth and bearing witness to what is happening. And the jury is out on whether or not that's going to happen."
The ERLC called recently for NBC to report on the CCP's human rights abuses of the Uyghurs during its Olympics coverage. In a Jan. 20 letter, Brent Leatherwood, the ERLC's acting president, urged the network "to highlight the ongoing human rights abuses and genocide of the Uyghur people happening in China and firmly refuse to broadcast Chinese propaganda."
Leatherwood, who moderated the webinar, has not received a reply from NBCUniversal Chief Executive Officer Jeff Shell, according to the ERLC.
Rushan Abbas, executive director of the Campaign for Uyghurs, told webinar viewers to think during the Olympics about the Uyghurs "being held in dark dungeons and concentration camps and also how the government is using this Olympic games to legitimize the genocide and modern day slavery."
Both Abbas and Nury Turkel, vice chair of the U.S. Commission on International Religious Freedom, encouraged viewers not to watch the telecast of the Olympics.
The reason that choices by media consumers matter "deeply is because viewership translates into money and advertising revenue for these companies," Sobolik said. "If people do not tune in to watch, that affects the bottom line of the Olympics."