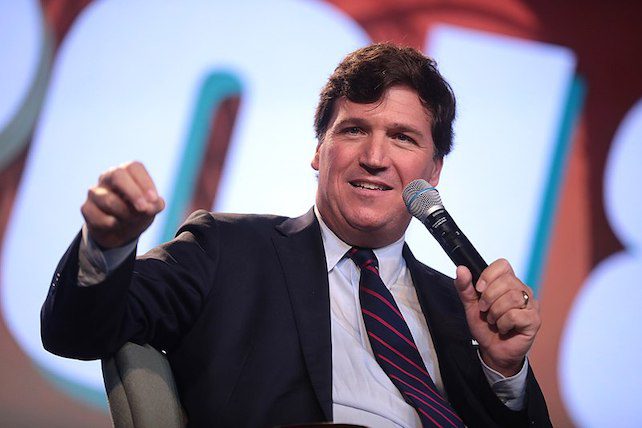 Religious faith, and Christianity in particular, is "a natural check" on the power sought by those across the aisle from Republicans, says Fox News host Tucker Carlson, who believes that hatred of Christianity is one of the driving motivators of "the other side." 
"Hostility to faith, but to Christianity, traditional Christianity in particular, is really one of the animating forces on the other side," said Carlson in a speech he gave Friday, July 15, at The FAMiLY Leadership Summit in Des Moines, Iowa. "I know that there are Christian leaders who pretend otherwise, but they're not telling the truth."
Carlson continued, "Anyone who sincerely believes in God, an actual God, probably not going to hand unlimited power to any person, right? So religious faith is a natural check on their power. That's true always and everywhere. And Christianity, specifically, is that. So if you're a Christian conservative, holy smokes, you on a gut level feel threatened. And I feel it too."
RELATED: Christians Need to Get Political, Say Eric Metaxas, Lauren Boebert, Sean Feucht at Hold the Line in Colorado Springs
Tucker Carlson on the Politicians To Support
The FAMiLY Leadership Summit was put on by The FAMiLY Leader (TFL), a group whose mission is to "strengthen families, by inspiring Christ-like leadership in the home, the church, and the government." The organization started in 1996 as the Iowa Family Policy Center "through Dr. James Dobson's vision of local organizations in each of America's 50 states advocating for righteous, God-honoring public policy." Over the years, the group has expanded its priorities beyond public policies toward supporting the church in promoting godly leaders in different areas of society. 
Tucker Carlson, who has spent his career in media and currently hosts Fox News' "Tucker Carlson Tonight," was a featured speaker at The FAMiLY Leadership Summit alongside Dr. Tony Evans of Oak Cliff Bible Fellowship in Dallas. Other speakers included various church leaders, as well as Iowa's governor, Kim Reynolds. 
Carlson believes that the 2024 presidential election offers Republicans a unique opportunity to leverage their power as voters. "However high the dissatisfaction Republican voters have for their own leaders, the other side is so menacing, so scary at this point," he said, that members of that side are impossible to support. They have "fully embraced delusion, extremely high levels of aggression."
The news host stated that it is obvious President Biden will not run again. And even though people have suspicions as to who will run as the next Republican candidate for president, there will be a  "mad scramble for power" as the next presidential campaign begins following the midterm elections this November. At this point, voters will "have all the power." 
Voters should leverage this power, said Carlson, by asking for candidates who focus on issues that are truly important. For example, he believes Russia's war in Ukraine is not nearly as important as the soaring cost of fuel. Other issues Carlson mentioned as not being of primary importance include trans swimmers and climate change.