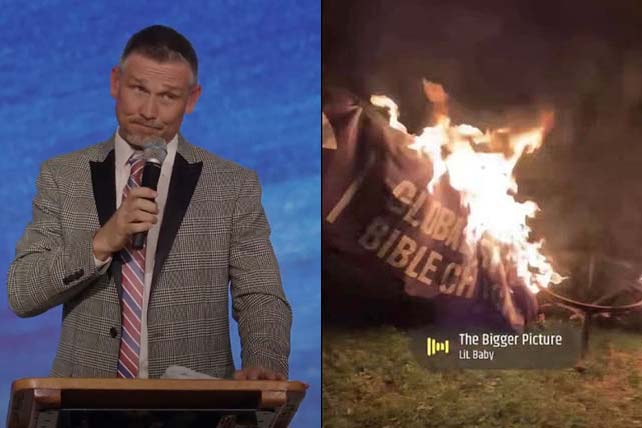 On Sunday (July 24), outspoken and controversial pastor Greg Locke shared on social media before Global Vision Bible Church's worship service that their welcome signs were stolen and publicly burned.
"Had our church welcome flags stolen last night and then burned on a Snapchat video," Locke wrote. "The public hatred for our church continues to rise. This is evil but make no mistake, we're NOT BACKING DOWN OR GOING AWAY."
This isn't the first time Global Vision Bible Church has been vandalized. In 2020, the church was defaced in response to their hosting of Roger Stone, former 2016 campaign advisor for President Donald Trump and convicted felon, to share his testimony.
Vandals defaced signs, walls, and the pulpit with vulgar messages that told Locke and Stone they were going to hell, causing an estimated $5,000 in damages.
RELATED: Greg Locke Removes Church's Tax Exempt Status; Calls Steven Furtick, Kenneth Copeland, T.D. Jakes, Perry Stone False Prophets
Locke's Facebook post has received over 14,000 reactions, 1,500 shares, and more than 3,400 comments. Many of the comments echo a similar sentiment to one that has gained close to 300 likes itself: "They are going to reap what they have sown. So thankful no one was hurt. Am praying for all of you!"
Others expressed that these types of hateful acts prove how much people need the gospel.
"People need God in their life. Prayers for the people that stole. I pray they feel remorse and ask God to forgive them," one commenter said. "I pray for GVBC Pastor and Mrs Locke their family and everyone at GVBC that God puts a circle of safety around them and blesses them."
We're going to keep serving God, Locke told congregants during his sermon Sunday morning.
"I'm telling you: it's a plan. They're coming against us. And everybody that's hated us, maligned us, stole our signs, burned them on Snapchat, everybody that's wanted to burn this tent down, everybody that has laughed, they won't be laughing when this economic situation comes to a crash," the pastor shouted.
Locke Raises $80,000 Dollars for Adoption Foundation
Global Vision Bible Church has been known to be generous with the funds raised by the church's congregants, both in-person and online. On Mother's Day, the church gifted over 200 single mothers with $1,000 each during their worship service. Locke shared with ChurchLeaders that the church gave away $202,000 that morning, calling it "beautiful."
A few weeks ago, Locke auctioned off his personal truck, called the "Bubba Truck," to raise funds for their adoption foundation. The Chevy 1500 Z71 raised $80,000.
RELATED: Greg Locke Says Christians Can't Vote Democrat, Speaks of Insurrection—Overshadowing Generosity to Single Moms on Mother's Day
"Well friends, it's a bittersweet morning on campus," Locke posted on Instagram. "Most of you know that last week I stood in the back of the Bubba truck under the tent and auctioned it off for our adoption foundation. It's just a truck, but it has served me well and my wife and I love what it stands for. It brought $80,000 for the cause and I just pulled it up on the trailer and it's headed to South Carolina. God has closed this chapter and will soon open another one. One thing remains, YOU CANNOT OUT GIVE GOD!!"
Many Hate and Dislike Locke Because of His Preaching
Locke has no issue telling it like he sees it and is therefore no stranger to controversy and criticism. He has received sex toys and death threats after calling out so-called witches—some of which he claimed attended Global Vision Bible Church worship services and Bible studies. Earlier this year, the church held a "burning party" where church members threw "demonic" materials, such as Harry Potter books and merchandise, into a large fire.