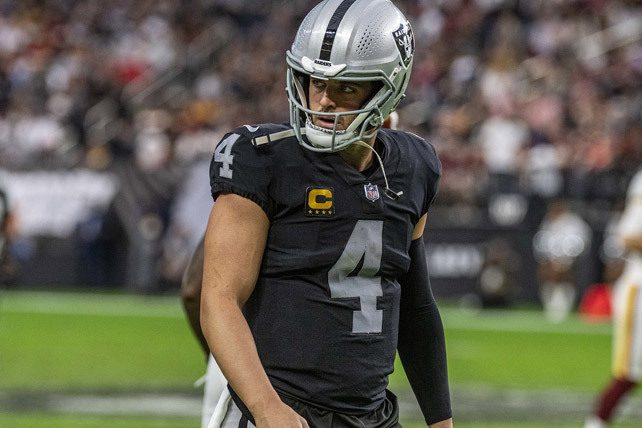 By saying "yes" to God and being willing to shelve his football career before it began, Derek Carr has been able to combine his passions of ministry and football. On a recent episode of "The High Note" podcast, the Las Vegas Raiders quarterback opens up about the blessings that come from hearing and obeying God. The 31-year-old All-Pro athlete also tells host Tauren Wells, a Christian musician, about the challenges and blessings of living for Jesus in high-profile secular setting.
As Church Leaders has reported, Carr is an outspoken Christian known for sharing the gospel with strangers—including at a Chipotle restaurant in San Francisco. He also once shared a message that helped prevent three suicides.
Derek Carr: Off-Field Victories Matter Most
In the podcast episode, titled "Derek Carr on Faith, Family, and Football," Tauren Wells introduces Carr as a "phenomenal preacher of the Gospel." In response to a question about where his "authentic" faith originates, Carr describes a strong family legacy of faith—including parents who prioritized Sunday worship over youth football games. "We were raised to know what was the most important thing," he says.
It wasn't until college when Carr made his faith his own, he admits, saying he was "not a good dude" for a while. When he first met Heather, now his wife of 10 years, "she was dragging me to church," he says. Thanks to her persistence, Carr became determined to change and to "prove it to [her] that I'm different."
The QB also credits longtime mentor Mattie Montgomery with helping him learn submission to authority and truly believe that Jesus acts in response to prayer.
As a recent example of listening to God and then seeing results, Carr describes an incident at a celebrity golf tournament last month. While eating breakfast in a hospitality tent, he noticed a photographer limping by and "felt the Lord telling me, 'I want you to pray for that lady.'"
Carr adds, "I knew she was going to have to walk all day…so I shared a story about how my mom was recently healed" and asked, "Can I just pray for you?" The photographer agreed, and the next day she returned to thank him, saying, "All the pain left." Of all his experiences that weekend, Carr shares, "that was the victory."
Derek Carr: God Knew My Heart Was His
Carr often references listening to God, noting that one message from above nearly upended his NFL career. He describes feeling "the tug of the Lord on my chest" to retire—just before his rookie year. After initially fighting the idea, he eventually talked to his coach and family. They all agreed "there'll be a day" for preaching but that he should go play for now.
"It was in that moment," Carr says, "where I think the Lord knew that my heart was his. And I've been able to minister to thousands of people." Through speaking appearances and conferences, he is "preaching the Gospel and watching thousands of people get saved. I've seen healings take place. I've seen people set free. I've seen marriages reunite. I've seen kids come back home. All while playing football."