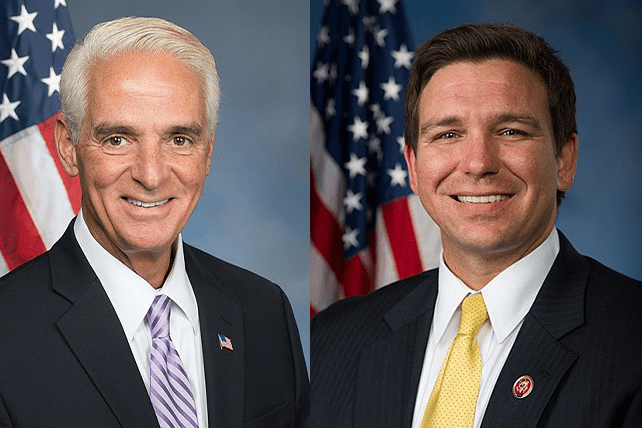 Florida gubernatorial candidate Charlie Crist is receiving criticism for comments he made at a campaign event wherein he compared himself to Ukrainian president Volodymyr Zelensky and referred to current Florida governor Ron DeSantis as "DeSatan." 
Crist currently serves as a congressional representative for Florida and is a member of the Democratic Party. He previously served as governor for Florida from 2007 to 2011. Prior to that, he served as the state's Attorney General. 
"Charlie Crist has been fighting for the people of Florida his whole life," Crist's campaign website says. "For Charlie, every Floridian is a neighbor, and working to help his neighbors and fighting for what's right is a lifelong calling."
In a video posted to Twitter by a group supporting DeSantis' reelection, Crist can be seen standing behind a podium addressing a group of supporters and discussing the colors he chose for his campaign's branded materials.
RELATED: 'As Christ Said, Judge a Tree by Its Fruits': Alex Jones Dumps Trump for DeSantis
"Look at that sign right there. You see the colors—the blue and the yellow? Does that remind you of any country that's in the news right now?" Crist asked, and the group began to applaud and shout, "Ukraine."
"Yeah, we're fighting for freedom too. We're fighting for freedom too. And Zelensky—President Zelensky—is amazing," Crist said. "And the courage, and the strength, and the decency that he shows. This is an election about decency, about being decent to one another, about being kind to everyone."
"It's called a Florida for all. You know, we've got a divider on the other side, and a uniter over here," Crist continued, referring to DeSantis and himself respectively. "You know, some people call him 'DeSatan.' Have you heard that?"
Crist's supporters laughed at the remark. One shouted, "That's one of the nicer ones."
"Indeed it is," Crist replied. "I'm trying to be nice."
Then, pointing to his name on a campaign poster, Crist declared, "DeSatan versus that."
"Christ," a number of the supporters said.
RELATED: Mississippi Pastor Accuses Joe Biden of Being Possessed by Satan During 'Soul of America' Speech
"Oh, think about it. Boom," Crist replied, and his supporters laughed. "No, we've got a great race ahead. We do, and I'm excited about it. And the choice is crystal clear. There's no question about it. It is crystal clear: he's bad, we're good."