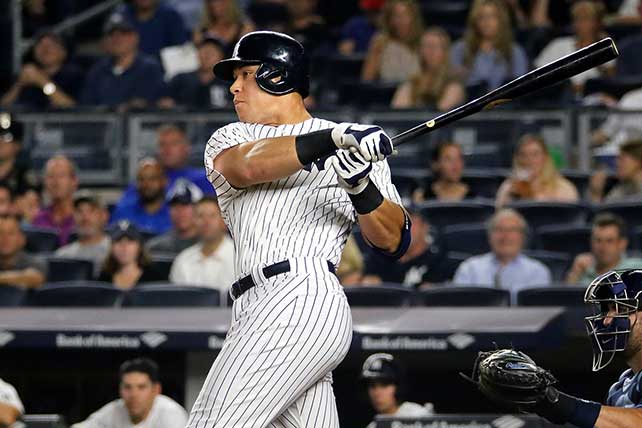 New York Yankees All-Star outfielder Aaron Judge blasted his 62nd home run on Tuesday night (Oct. 4), breaking Major League Baseball's (MLB) American League (AL) record for home runs hit in a single season—a recored which was held by Roger Maris since 1961.
"What a night. Such a blessing from God to share that moment with so many special people!," Judge posted on Instagram after the game. "Thank you @rogermarisjr, the Yankees, my teammates, my family and all the Yankee fans for such an incredible day! Time to finish the regular season out and get ready for an exciting postseason!"
Judge and the Yankees were playing the Texas Rangers when the 2017 AL Rookie of the Year hit the record breaking home run. The Yankees lost what was the second game of a doubleheader, 2-3.
The slugger hit his 62nd home run in the second-to-last game of the season. The Yankees gave Judge the day off on Wednesday (their last game of the season). The Yankees begin their playoff run on Tuesday (Oct. 11), where they will play the winner of one of the AL wild card games.
RELATED: Eagles' Jalen Hurts, 'You Have To Put [God] at the Center of Everything That You Do'
MLB Network's Jon Morosi asked Judge, "How does this seed of this dream get planted for a kid from Linden, California, all those years ago? How does that journey wind up on a night like this—62 home runs?"
"I've got to thank God for putting me in this position and getting me to where I'm at," Judge responded. "The constant support from my family and friends who've been with me through it all, coaches from Little League, high school, college that have been here instructing me and helping me out through this whole thing. Any time individual records [or] individual awards are given, it's never individual, it's never single-handedly done. It's through a group effort—people behind the scenes, family support, friends, teammates."
"So I can't stand up here and say this is a great accomplishment for me. This is something for my family, for my teammates, for the Yankees. This is a group effort that I'm happy to share with them," Judge continued.
Judge, who along with his biological brother was adopted at birth by Wayne and Patty Judge, was raised in a Christian household.
The Yankees' slugger will be a free agent after the season comes to a close. Earlier this year, when Judge was asked how that fact would affect his play going into the 2022 season, he shared that his future is in "God's hands."