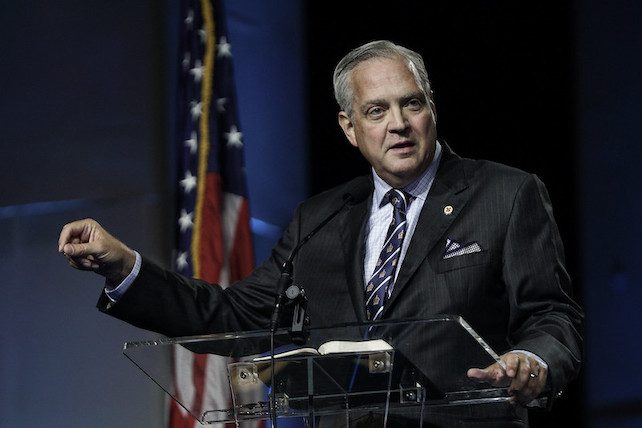 Conservatives need to take responsibility for "weaponizing language" and so leading some people into violence, said Southern Baptist Theological Seminary president Dr. Albert Mohler in his Monday edition of The Briefing. Mohler made his comments while reflecting on the recent attack on Paul Pelosi, husband of Speaker of the House Nancy Pelosi.
"I want to speak to those on the right, to conservatives," said Mohler. "We bear responsibility for weaponizing language in a way that…can mislead someone who is deluded or troubled into thinking that the answer to a political problem is some form of violent act. That is something we simply must keep in mind. The incendiary context of social media, many of the memes and themes and much of the language that is being used is not going to age well, and it just might serve as a reminder that we had better watch our language."
Paul Pelosi Attacked While Asleep at Home
In the early morning hours of Friday, Oct. 28, a man named David Wayne DePape, 42, broke into the San Francisco home of Paul and Nancy Pelosi. According to a press release from the U.S. Department of Justice (DOJ), Paul Pelosi, 82, was asleep in his bedroom when he was accosted by DePape, who was looking for Nancy. 
A court filing says that DePape was holding a hammer and zip ties when he confronted Paul, saying, "Where's Nancy? Where's Nancy?" Nancy was in Washington D.C. at the time. During the confrontation, Paul was able to make a 911 call from the bathroom, and two officers later arrived at the scene, where they witnessed DePape strike Paul on the head with the hammer. Officers subsequently tackled DePape and arrested him. Police recovered "a roll of tape, white rope, a second hammer, a pair of rubber and cloth gloves, and zip ties" from the scene of the crime, says the DOJ.
San Francisco District Attorney Brooke Jenkins said that DePape's intent was to take Nancy Pelosi "hostage and to seriously harm her." DePape has entered a plea of not guilty and is being held without bail. The court filing further states that DePape said he was on a "suicide mission" and planned to target other politicians.
A press release issued Friday by Nancy Pelosi's office says, "Mr. Pelosi was admitted to Zuckerberg San Francisco General Hospital where he underwent successful surgery to repair a skull fracture and serious injuries to his right arm and hands.  His doctors expect a full recovery."
The DOJ's press release states:
DePape is charged with one count of assault of an immediate family member of a United States official with the intent to retaliate against the official on account of the performance of official duties, which carries a maximum sentence of 30 years in prison. DePape is also charged with one count of attempted kidnapping of a United States official on account of the performance of official duties, which carries a maximum sentence of 20 years in prison.