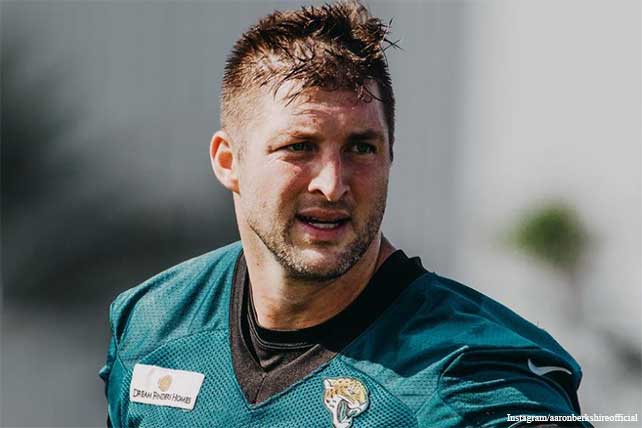 UPDATED August 18, 2021: Tim Tebow's NFL comeback with the Jacksonville Jaguars came to a close on Tuesday after it was announced that the hopeful tight end was released by the team.
Shortly after his release, Tebow posted on his social media pages a humble message saying how thankful he was for the opportunity the Jaguars gave him.
Tebow also posted Romans 8:28: "And we know that for those who love God all things work together for good, for those who are called according to his purpose."
His Instagram post read:
"Thankful for the highs and even the lows, the opportunities, and the setbacks. I've never wanted to make decisions out of fear of failure and I'm grateful for the chance to have pursued a dream. Thank you to the @jaguars organization and everyone who has supported me in this journey. And we know that…God works all things together for good. Romans 8:28″
Related article: 11 NFL Players Who LOVE Jesus (and Football)
The former quarterback's lack of experience at the new position, especially in the area of blocking, resulted in him being cut from the team. The tight end position is used heavily on special teams due to their blocking abilities. Tebow didn't play a special teams snap during the preseason loss against the Cleveland Browns last Saturday.
Tebow's former college coach and first-year Jaguars head coach Urban Meyer said, "We knew that was an uphill battle for Tim. Players loved him, locker room loved him, but it was the right thing."
---
ChurchLeaders original article written on May 20, 2021, below:
Congratulations to Tim Tebow on His Signing With the Jacksonville Jaguars
The NFL's Jacksonville Jaguars announced on May 20, 2021, that they have officially signed Tim Tebow (age 33), one of the most popular Christian athletes in the last decade of professional sports.
The Jaguars' announcement reads: "We have signed TE Tim Tebow," and posted an image with a thank you message from the former quarterback. Tebow's message read, "I want to thank the Jaguars for the opportunity to compete and earn the chance to be part of this team. I know it will be a challenge, but it is a challenge I embrace. I am dedicated to taking the direction of our coaching staff and learning from my teammates. I appreciate everyone's support as I embark on this new journey."
"God is so much bigger than a game. And at the end of the day, it's just a game."
The multi-talented athlete will switch from his former NFL starting position as quarterback to tight end, a position he has never played in professional sports. Tebow hasn't played a down in the NFL since 2012, which led critics and skeptics to question the Jaguars's decision. Some have called Tebow's contract the result of white privilege because Colin Kaepernick, a Black NFL'er who gained fame and notoriety for his kneeling protest of racial injustice, still hasn't been signed.
Tebow will join his former Florida college coach Urban Meyer and number-one overall first-round rookie draft pick Trevor Lawrence, who has said, "Football's important to me, but it's not my life. It's not the biggest thing in my life…I put my identity in what Christ says, who he thinks I am, and who I know that he says I am."
The contract Tebow signed does not guarantee he'll be playing on the team when the Jaguars visit the Texans in September, which means the 33-year-old will have to work hard to earn the highly coveted 53-man roster.
Tim Tebow Shares the Love of Christ
Tim Tebow told ChurchLeaders.com that "God's not only enough. He's so much more than enough," during a 2016 podcast. ChurchLeaders.com has covered Tebow over the years due to his public, enduring love for Jesus despite significant cultural pushback. What follows are some of our most popular articles.
KISS Rocker Stands Up for Tebow
After critics mocked Tebow's faith during his previous years in the NFL and just recently criticized him as reports started to leak about his potential NFL return with the Jacksonville Jaguars, KISS' front man Gene Simmons vocalized his support for Tebow.