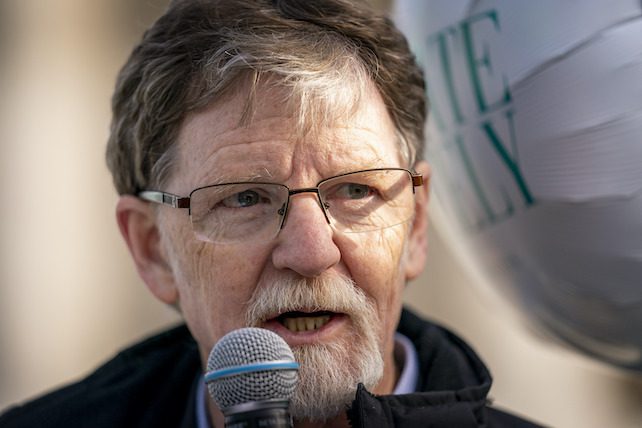 Jack Phillips, the Christian baker who won a Supreme Court case in 2018, lost an appeal Thursday (Jan. 26) in a Colorado civil lawsuit regarding a transgender-themed cake. A Colorado Court of Appeals panel ruled that Phillips denied service based on a customer's identity, thus violating a state anti-discrimination law.
According to the Alliance Defending Freedom, which represents Phillips, he will appeal to the Colorado Supreme Court. On its website, ADF describes the baker's 10-year ordeal of legal battles, writing "Enough is enough."
Court: Pink & Blue Cake 'Is Not Inherently Expressive'
When Jack Phillips was victorious at the U.S. Supreme Court—in a case regarding a cake for a same-sex marriage—justices didn't address free speech or discrimination issues. Instead, they ruled 7-2 that the Colorado Civil Rights Commission displayed "impermissible hostility" toward Phillips' religious beliefs.
In 2017, on the same day the high court announced it would hear that case, Colorado attorney Autumn Scardina asked Phillips' Masterpiece Cakeshop to bake a pink and blue cake. (Scardina also requested a Satan-themed cake.) Although Debra Phillips, Jack's wife, initially agreed to make the pink and blue cake, the shop declined the order after learning the design's meaning.
Scardina filed a complaint with the Colorado Civil Rights Commission, but when Phillips countersued, Scardina turned to a civil lawsuit against the baker. In June 2021, a Denver District Court judge ruled for Scardina, saying Phillips and his bakery "failed to carry their burden to show that providing the requested cake constituted any type of symbolic or expressive speech protected by the First Amendment." Phillips then appealed.
In this week's decision, Appeals Court Judge Thomas Schutz writes that the requested cake had "no message or other design elements," meaning that no speech was compelled. The panel concluded that "creating a pink cake with blue frosting is not inherently expressive and any message or symbolism it provides to an observer would not be attributed to the baker."
Schutz continues: "It was only after Scardina disclosed she was transgender and intended to use the cake to celebrate both her birthday and her transition that Masterpiece and Phillips refused to provide the cake. Thus, it was Scardina's transgender status, and her desire to use the cake in celebration of that status, that caused Masterpiece and Phillips to refuse to provide the cake."
ADF: Jack Phillips Is Being Targeted for His Faith
ADF attorneys say Jack Phillips continues to be targeted and harassed because of his Christian beliefs. "This cruelty must stop," says senior counsel Jack Warner. "One need not agree with [Phillips'] views to agree that all Americans should be free to say what they believe, even if the government disagrees with those beliefs."