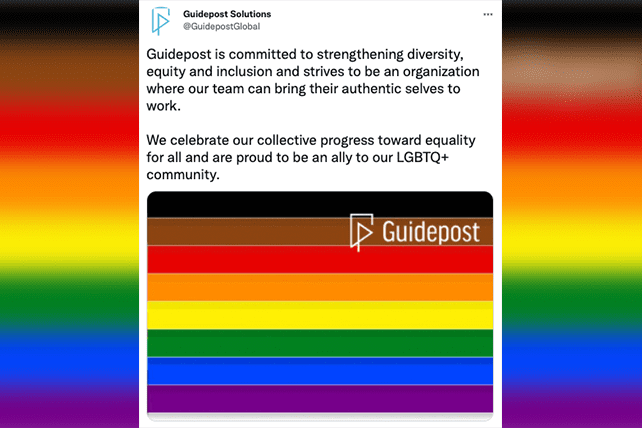 With the annual meeting of the Southern Baptist Convention roughly one week away, tensions are continuing to rise among key SBC leaders regarding the Guidepost Solutions report of how the Executive Committee handled sexual abuse allegations from 2000 to 2021 and the recommended response being put forth by the Sexual Abuse Task Force (SATF) in accordance with the report. 
Earlier this week, some SBC leaders raised concerns about how the cost of implementing reforms may affect budgeting constraints for missions. Now leaders are raising alarm bells after Guidepost Solutions tweeted their support for LGBTQ+ Pride Month on Monday (June 6). 
"Guidepost is committed to strengthening diversity, equity and inclusion and strives to be an organization where our team can bring their authentic selves to work," Guidepost's tweet said above an image featuring pride colors and the organization's logo. "We celebrate our collective progress toward equality for all and are proud to be an ally to our LGBTQ+ community."
RELATED: Rachael Denhollander Explains the Long Road It Took for the SBC to Agree on a Sexual Abuse Investigation

Guidepost Solutions, whom the SBC Executive Committee tasked with performing an independent third-party investigation, was originally contacted under the direction of former Executive Committee president and CEO Ronnie Floyd and under the advice of sexual abuse survivor advocate Rachael Denhollander. 
After Floyd resigned from the Executive Committee following the committee's decision to waive attorney-client privilege, the Sexual Abuse Task Force, appointed by SBC president Ed Litton, decided to move forward with hiring Guidepost Solutions.
Following the release of the report, the Executive Committee voted to allocate funds to implement suggested reforms. The final decision regarding how the SBC moves forward in light of the report will be determined, in large part, by the votes of SBC messengers at the annual meeting in Anaheim, California, next week. 
Guidepost Solutions has established itself as a reputable independent third-party investigator for organizations seeking to uncover failures of policy and institutional structures, including Christian organizations, having also performed an investigation about sexual harassment claims within Christianity Today. 
Nevertheless, Guidepost Solutions' affirmation of Pride Month was enough to give some SBC leaders pause about implementing any of their suggested reforms, particularly those leaders who were already reticent or reluctant to begin with. 
"Hey, SBC! You might want to consider this as you contemplate adopting the solutions they offer our convention," tweeted Texas SBC pastor Tom Buck. "Not sure their voice should be listened to by any Christian organization. They don't hold a biblical worldview and their recommendations reflect that."
RELATED: Rick Warren Endorses Bart Barber for SBC President; Tom Buck Suggests Saddleback Should Be Disfellowshipped

Former Executive Committee member Rod Martin also tweeted with frustration, saying, "Some people will make any excuse whatsoever to hide the fact that they want a bunch of LGBTQIA+ activists to rewrite our ecclesiology."