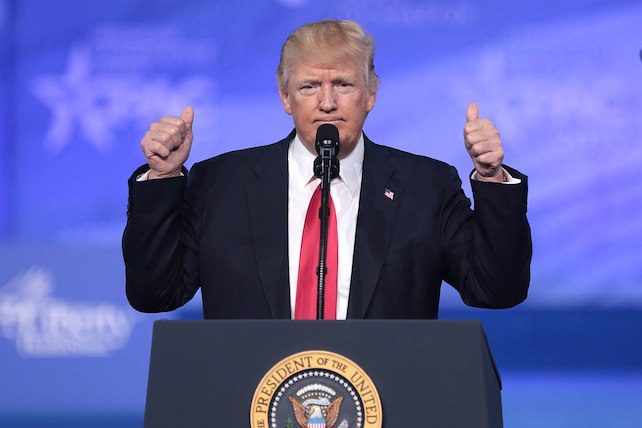 Pastor Jimmy Morales, who introduced former president Donald Trump at a campaign rally hosted at the Morales' church Saturday, July 8, told attendees that the rally was the second most remarkable event that had ever happened at the church behind people giving their lives to God. 
"I am so excited about what's going on here today," said Jimmy Morales, founding and senior pastor of Fervent church in Las Vegas. "This is the most amazing thing that's ever happened at this church, other than you giving your life to the Lord."
Jimmy Morales: 'We Are in a Battle for the Soul of This Nation'
Pastor Jimmy Morales made his comments at a volunteer recruitment event held for Trump at Fervent. Commenting that he was "so blessed to have President Trump here," Morales said that "the upcoming elections are the most important elections this country has ever faced. We are in a battle for the soul of this nation. We are in a battle for the unborn, and we are in a battle for the church because never have our Christian values been under attack like they are now."
Christians "need a nation of pastors with backbone," said Morales, and "a president who's got our back."
The pastor prayed for the event, asking God to help Christians stand for what is right and requesting that "we wouldn't be woke, but we'd be awake."
RELATED: 'Woke' Doesn't Mean What You Think It Means, Says Benjamin Watson
"If we can take Nevada back, we can take the country back," Morales told those in attendance. Prior to Trump taking the stage to speak, the pastor introduced him as "the 45th and 47th president of the United States."
Trump told his supporters that his campaign was doing extremely well, and he criticized the current leaders of the United States as "evil" and "incompetent." The former president repeatedly referenced the false claim that the 2020 presidential election was "rigged" and said that his campaign was prepared for "cheating" in 2024.
Trump, who has criticized President Joe Biden numerous times, said he would not have criticized Biden three weeks ago, but now the "gloves are off." Inflation and illegal immigrants are among the problems Trump said he will address if elected, and he also promised "to obliterate the deep state," ban critical race theory and transgender ideology from schools, and stop men from competing in women's sports.