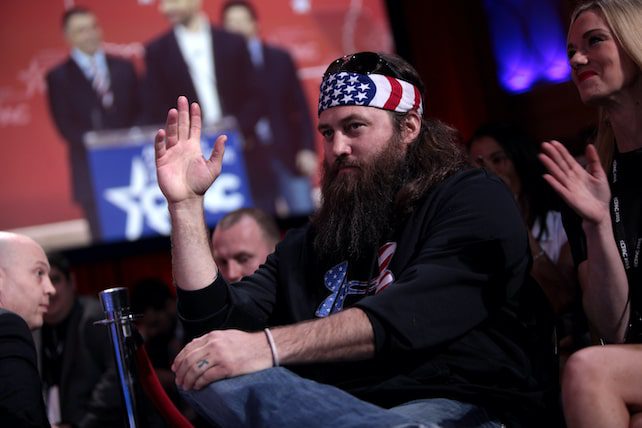 "The Blind," a new movie about how God transformed the life and marriage of "Duck Dynasty" patriarch Phil Robertson, is difficult to watch at certain points. That's especially true if you're a member of the family. Willie Robertson, one of Phil's sons and the current CEO of Duck Commander, recently addressed the challenge of viewing his family's struggles on the big screen. Willie's wife, Korie Robertson, also shared her reactions plus those of their children (Phil's grandchildren).
RELATED: 'The Blind' Presents a Raw Look at Phil and Kay Robertson's Marriage and How Jesus Saved It
"The Blind," which premieres today (Sept. 28), is a fictionalized telling of how Jesus saved the troubled marriage of Phil and Kay Robertson. Alcoholism, anger, an extramarital affair, and separation threatened the couple and their children—until Jesus changed Phil's life and restored his marriage. Directed by Andrew Hyatt, the PG-13 movie stars Aron von Andrian as Phil Robertson and Amelia Eve as Kay Robertson.
Willie Robertson: 'The Blind' Can 'Bring People Closer to the Lord'
In a video interview with The Christian Post, Willie Robertson said "The Blind" is powerful, real, and "hard to watch" because it shines a light on the "darkest point" of his parents' lives. The 51-year-old pointed out that in faith circles, people tend to move on from past difficulties. "We don't even like talking about it," said the outspoken Christian. "It's hard to go back there."
But Robertson said he's thankful his parents are sharing their story, "really just for the hopes that if someone else finds themselves in this desperate situation without God, that they could see that, and maybe that would help bring people closer to the Lord. And that's what happened in our family."
Of his parents, who've been married since 1966, Robertson said, "It's easy to see the benefits once Phil was able to completely change his life and yield to Jesus. But also once Mom forgave Phil and they restored their marriage, then they had a way better shot at life. That's why we're so thankful for God, and that's why we're bold about it and talk about it because without God entering in this picture, my life would look completely different."
In a pinned tweet about "The Blind," Robertson wrote in May: "Our family story didn't start with Jesus, but it sure will end with Him."
'The Blind' Shares Hope in Jesus
Korie Robertson, Willie's wife, also spoke to The Christian Post about "The Blind" and her family's reactions to it. She admitted being nervous for their kids to see the movie "because we had been working on it so intimately for the past like two years." Willie and Korie Robertson are parents to six, including influencer Sadie Robertson Huff.
"They just loved (the film) and had such a great response," Korie Robertson said. Her children wanted to know if all the events were true, including when "Grandma Kay" hit a low point and considered suicide. She assured them it was all true.