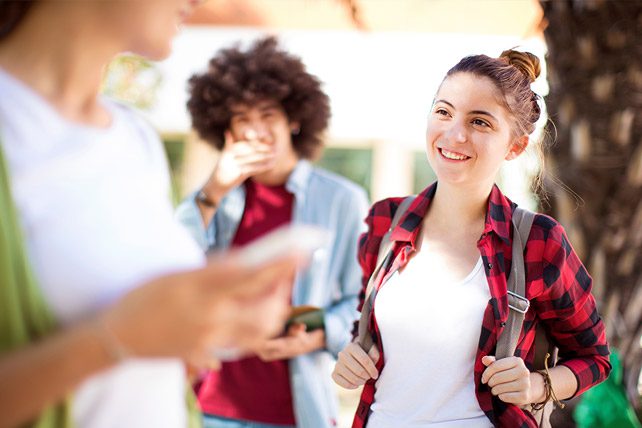 As the founder of Dare 2 Share, I've been blessed to mobilize millions of teenagers across America and around the world to share the Gospel. I've witnessed the impact of teens reaching other teens with the Gospel—not just on the teenagers who come to faith but also on the Christian teenagers who share with them.
As I've told youth leaders again and again: "If you want to get your teenagers to grow, then you've got to get them to go."
But nothing gives you a front-row seat to true impact like being a parent of teenagers who are actively sharing their faith. Over the last eight years, I've watched how evangelism has affected, and continues to affect, my kids—now ages 18 and 21.
As a dad, I've noticed six surprising ways evangelism helps teenagers mature.
1. Improves Their Communication on a Social Level
"Alas, Sovereign LORD," I said, "I do not know how to speak; I am too young." But the LORD said to me, "Do not say, 'I am too young.' You must go to everyone I send you to and say whatever I command you. Do not be afraid of them, for I am with you and will rescue you," declares the LORD. (Jeremiah 1:6-8)
Many experts believe Jeremiah was in his teens or early 20s when he got this call to be a prophet of God. But, no matter his age, God commanded him to go and preach. The biblical books of Jeremiah and Lamentations are samples of what a "sent" young person can articulate when filled with the power and presence of God.
From early on, my son and daughter were equipped to share the Gospel. Articulating it consistently has helped them improve their communication skills as they interact with others.
2. Increases Their Confidence on a Personal Level
When they saw the courage of Peter and John and realized that they were unschooled, ordinary men, they were astonished and they took note that these men had been with Jesus. (Acts 4:13)
Although Peter was an adult when he began to follow Jesus, John was most likely a teenager. The Holy Spirit infused both of these men with divine confidence when they needed to articulate the Gospel clearly.
I've seen this with both of my kids, but especially with my daughter Kailey. She's naturally shy and quiet, but over the years, I've seen her come more and more out of her shell. Today, she's leading the way spiritually at the Christian school she attends, including as the school's worship leader. And I credit evangelism, combined with the filling of the Holy Spirit, for this remarkable change.
The last Saturday of every month, we try to participate in a global initiative called Go Share Day. My daughter gets a group of her friends together, and we go out to share the Gospel. One day earlier this year, we went to the 16th Street Mall in downtown Denver. I'll never forget my daughter and her friends approaching one homeless man to engage him in a Gospel conversation. He turned his head away from them in shame and started screaming, "Leave! God will never accept me! Please leave!" It was then I saw the look of holy determination in my daughter's eyes. She gently said, "No. We will not leave until you hear how much God loves you." I could see the tears begin to flow down their cheeks, as my daughter and her friends waited for him to turn toward them and engage.
He eventually did.