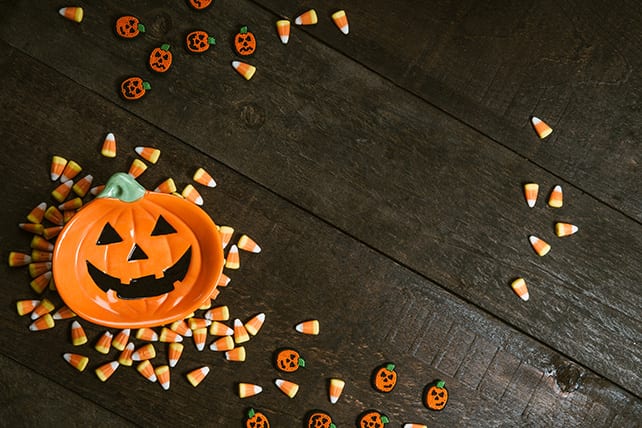 For Christians and Halloween, the time of year has come when you decide whether or not you will participate in the 'Trick or Treat' of Halloween. No matter your age or station in life, Halloween really affects everyone in our culture. Is there such as thing as a Christian Halloween?
If you have children, you'll decide if you will allow them to dress up and have them gather up candy for you….ummm, I mean for them :), or you will decide if you will turn on your front porch light and pass out candy. You may be involved in the decision of whether or not your church will host a harvest festival or the like.
There are ministers on both sides of the Halloween debate; it's one of those pesky gray areas that ends up being discussed each year in the church world. The purpose of this post isn't to tell you whether you should or shouldn't participate, and we encourage you to follow the Holy Spirit's leading for you and your family, but rather to give you some perspective.
10 Thought-Provoking Articles on Christians and Halloween
Here are 10 ChurchLeaders posts from other Christ-following leaders that may give you some helpful information as you make your decision.
"Witches, ghouls and ghosts? Or an opportunity to open your door to your neighbor? The holiday with a bad rep is almost here. For Christians and Halloween questions, eleven pastors answer the question, "Should Christians Celebrate Halloween?"
"We cannot protect our kids from fear, it will come. There are scary things in the world, but we cannot be moved by fear. Let's teach our kids what to do when they feel scared."
"Whatever you do…just reach people…in the end, it won't matter if you won the debate or not…it will only matter how many kids and families we shared the Good News with."
"The thing that is interesting about Halloween, however, is that it is the one day a year when neighbors (who in reality are total strangers) will actually interact with not one, but many of the folks in their neighborhood! Neighbors who never speak will now knock on each other's doors and will interact for the first time in a year."
"Depending on your faith community or brand of spirituality, Halloween and trick-or-treating may be controversial for some of you. But no one can argue that when a national tradition literally lines kids and parents up at your doorstep, that has to be a good time to roll out the red carpet for mission."
"There are all sorts of opinions floating out there about whether or not Christians should celebrate Halloween. Some side with the Jehovah's Witnesses when it comes to this holiday (hell-i-day?) and choose not to celebrate in anyway whatsoever. Others gather at local church Harvest Festivals for games, candy, and holy fun. Still others dress their kids up and march them door to door to celebrate with the pagan tots."
"I know lots of Christians who avoid Halloween. I did years ago. The Halloween church signs we just posted make that clear. I get it and even respect it, depending on how you handle it."
"Jesus said, I am the light of the world. Whoever follows me will never walk in the darkness but will have the light of life." – John 8:12
"How much do you know about Halloween? Here are a few fun facts about the holiday some love and some hate."
Regardless of how you feel about Halloween, remember every single day is an opportunity to share the truth of Christ to those you come in contact with. Let's remember that the devil doesn't get just one day; he is roaming this world every day 'tricking' people into thinking everything else but Jesus is better. As Christ-followers we get the opportunity to 'treat' them to the truth of the gospel. I pray we never pass up an opportunity to do so.