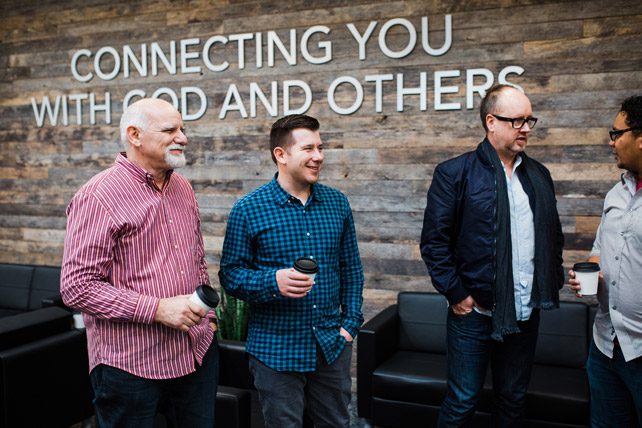 People find community in many places—at work, in a book club, in a neighborhood group, or by joining a gym—all fantastic ways to connect and build relationships with others. Our church lobbies play a critical role in building true community by giving people a space to encounter God together. Engaging in a church experience is about developing a deep relationship with God and fostering meaningful relationships with others.
Designing for Radical Hospitality
These days, relationships aren't necessarily being built in spaces people have to seek out, like Fellowship Halls. They're happening when a person first walks through the front door of your church. Because connecting with others is a vital part of the discipleship journey, hospitality needs to be one of every church's highest priorities. We're serving a broken and hurting world—people want to sense immediately that they're welcome and that they belong. It's not just about staff and volunteers greeting people, but more of a complete shift to the entire congregation modeling hospitality.
"A lobby's number one job is to make people feel welcome and to build relationships. It goes beyond greeters. It's about building a culture of radical hospitality that permeates the entire congregation." –Greg Snider, Ministry Space Strategist, Aspen Group
Four Zones for Hospitality and Generosity
1. The Welcome Desk
Churches that have a welcome desk smack-dab in the entry way, are unintentionally creating a barrier to people when they walk in the door. It might seem like a logical idea—giving people a place to stop to get information or ask a question—but it actually works against the natural flow of the space and doesn't offer people a place to stop and connect first.
Moving the welcome desk back and creating casual groupings of furniture, like the above example from Chapelstreet Church's North Aurora, Illinois campus, lets people know they're welcome and that there's a space for them. It also allows them to navigate the space at their pace, and invites them to relax and build relationships.
Chapel Pointe, in Hudsonville, Michigan (above) added a two-story focal point fireplace, giving the space warmth and expressing their unique DNA. Soft seating surrounding it, encourages people to linger in the space.
2. The Café
Church cafés aren't necessarily drawing people in from the community like we had hoped—they've become a space for the people in the church, so it's an important tool to build hospitality. Relationships are built around food and drink, so we need to do whatever we can do to lower those barriers so people can authentically connect. Consider reinventing your café to not just serve food and drink, but good food and drink—and not just serve good food and drink, but be served by people who have been trained to love people well and draw them into relationship.
Waypoint Church, in St. Charles, Missouri (above), installed overhead garage doors between their cafe and their patio, to fully take advantage of their outdoor space. On nice days the doors can remain open and people can connect indoors and outdoors.
"We need to reinvent our cafes to not just serve food and drink . . . but be served by people who have been trained to love people well and draw them into relationship." –Greg Snider, Ministry Space Strategist, Aspen Group
3. The Family Room
Family Rooms have become a unique way to add relational space with a more subdued atmosphere. These rooms, which are typically located right off the lobby, can offer a variety of seating, be outfitted with technology, and serve many purposes. They can be encased in glass, include a warming fireplace, or a connection to an outdoor patio. These spaces are perfect for a quiet chat, or as worship overflow or for those who feel less at ease in a larger worship venue. They can even be used for small group meetings and gatherings.